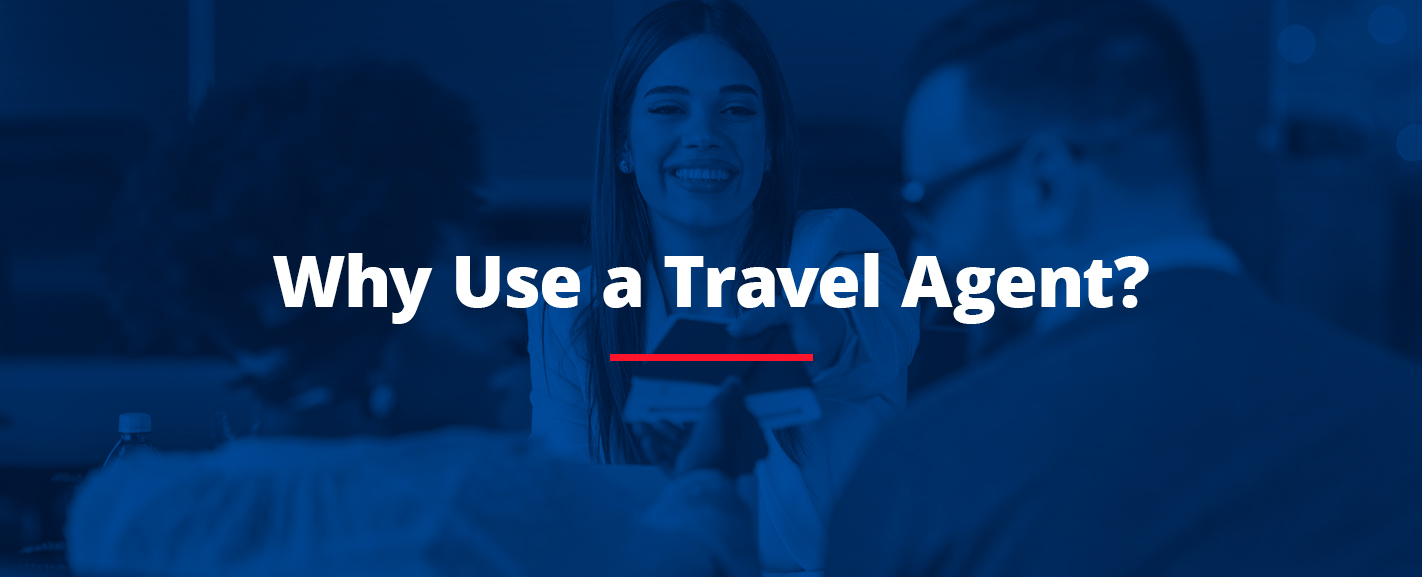 The internet has made booking your vacation that much easier thanks to the innumerable travel websites at your disposal. Though you could plan your travels on your own, you don't have to. Travel agents are trained professionals tasked with planning your vacation for you. On top of that, they offer numerous other perks and benefits you wouldn't have access to on your own.
Using a travel agent is even easier when you're a AAA member because you get access to AAA travel agents for free with your membership. Still wondering why using a travel agent is worth it? Here are some common reasons to use a travel agent when you book your next vacation.
Top Reasons to Use a Travel Agent
If you're short on time, wasting hours researching flights, hotels and other travel details can make vacation planning seem more like a chore than something to look forward to. The role of a travel agency is to help you have the best vacation without sacrificing the time and energy needed to plan it. Here are three more reasons why travel agents help make planning your vacation easier:
1. Exclusive Insider Access
Travel agents are well-versed with the ins and outs of all aspects of planning a trip — including the best flights, the best accommodations and the best sites to tour. Because they're trained professionals, they have access to exclusive tour packages and events that may not be available to the average traveler. Part of their job is to constantly research and experience different places, during which they make valuable connections they can offer to you.
Travel agents are often avid travelers themselves, so they can offer unique insights into the places you're visiting and provide tips on how to make the most of your trip. Their insider connection to travel also includes staying on top of the various changes the world experiences. They use this knowledge to help ensure your trip is memorable and goes smoothly, despite what may be happening in the world.
Another aspect of travel agents' insider knowledge is their skills at navigating the logistics of travel, which is especially useful if you're planning a vacation for a large group of people. Travel agents can help you find the best flights, accommodations and tour groups, saving you the trouble of spending hours trying to do the same yourself.
2. More Value for Your Money
Some people think travel agents aren't worth using because of the commission they charge on top of the vacation price. But since they're professionals, you're paying for their expertise and years of experience. This know-how can often lead to a lower overall cost since travel agents may be able to find you unique deals and discounts that aren't available to the public.
Cruise lines and many resorts offer exceptional deals and vacation packages, but these bonus items are only offered to travel agencies. For AAA members, the commission is included in the membership fee, which means you get to take advantage of the expertise of travel agents and get more value for the cost of your trip. 
3. Professional and Expert Services
Travel agents have spent years studying and working in the industry. They have their fingers on the pulse of world travel, including any travel concerns, bonuses and overall advice. When you plan your vacation with a travel agent, you're not just paying someone to book a trip for you — you're paying someone who is experienced at finding the best deals, discounts and options when it comes to traveling.
Just like you'll be better off hiring a professional plumber to fix a leaky pipe, you'll be better off hiring a professional travel agent to plan your next vacation.
When Should You Use a Travel Agent?
Ideally, you should use a travel agent whenever you're planning a trip, be it a solo trip or a family vacation. But there are more specific times when a travel agent's expertise may be helpful, like the following.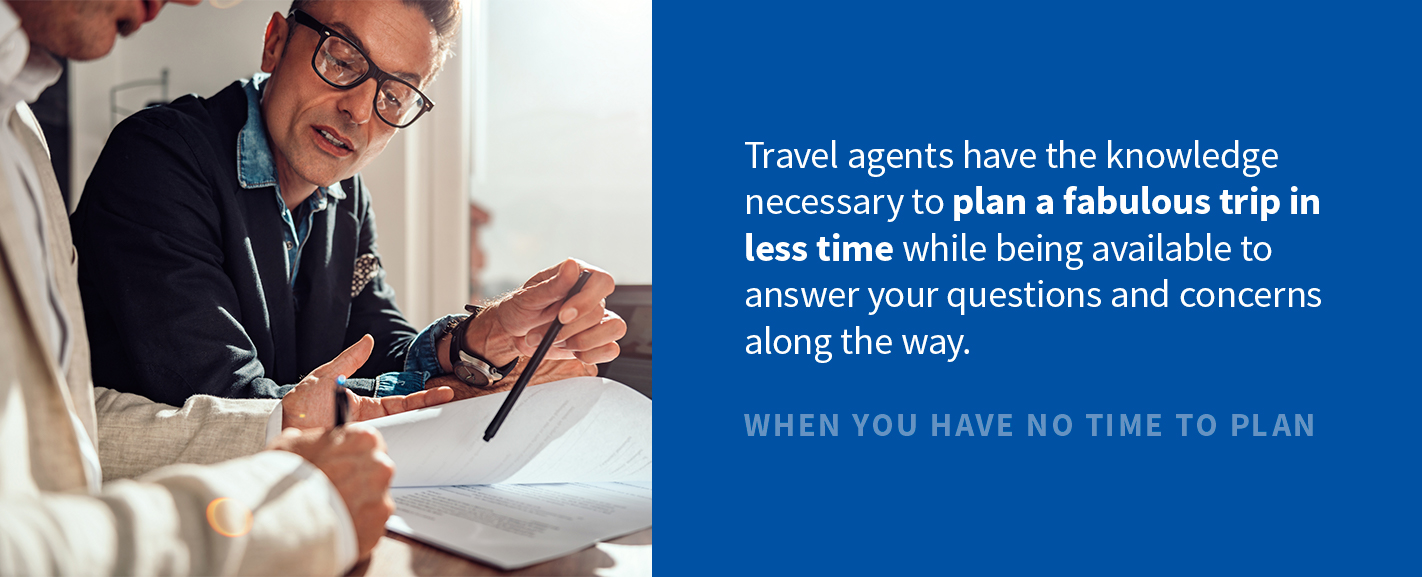 1. When You Have No Time to Plan
Usually, when you need a vacation it's because you're overworked and need a break. Issues may arise when you try to schedule some time off without having any free time to plan your excursion. That's when a travel agent comes in handy since they can plan your trip for you, using your specifications. Planning a trip is hard work and can be extremely time-consuming. Luckily, travel agents have the knowledge necessary to plan a fabulous trip in less time while being available to answer your questions and concerns along the way.
Your travel agent will take care of all the details, from the time of your flight to the size of your hotel room — and they'll even be able to recommend dining options, tourist sites and attractions for you and your family.
2. When There Are Chances of Emergencies
While we can't predict emergencies, we can prepare for them. But that can be hard to do if you don't know what to expect or how to deal with what may come. If you're planning a big ski vacation, a travel agent will be able to tell you if there are any storms or closures you should be aware of. Whether it's inclement weather, earthquakes or erupting volcanoes, your travel agent will be aware of it before you are and will be able to guide you in planning your trip.
If you use a travel agent to plan a trip and find out your flight is canceled due to bad weather or your accommodations are suddenly closed during a natural disaster, your travel agent will be your advocate when it comes to rebooking or changing your travel dates. When booking a trip yourself, you will likely be charged for any changes or cancellations — regardless of the reason. But a AAA travel agent will have your safety and comfort in mind, ensuring you get to your destination without suffering heavy penalties.
3. When You Want Extras and Perks
With their access to perks and discounts that airlines, resorts and hotels don't make publicly available, travel agents can pass you savings to make your trip more memorable without the additional cost.
Cruises are a great example of the types of upgrades and perks travel agents can score for you, such as upgrading to a deluxe suite at the same price you'd pay for an average room or scoring you credits to use aboard the cruise ship. You could book a similar cruise with the bare basics, or you could book with a travel agent and get tons of upgrades and extras for the same price.
Book Your Next Trip With a AAA Travel Agent
For over 100 years, AAA travel has made it easier for members to plan the perfect trip without worrying about the nitty-gritty details. With vacation packages, travel services and 100% support before and during your trip, AAA travel agents are dedicated to ensuring you have the vacation of your dreams without the hassle.
Take advantage of the expertise of AAA travel agents, and book your next trip today.