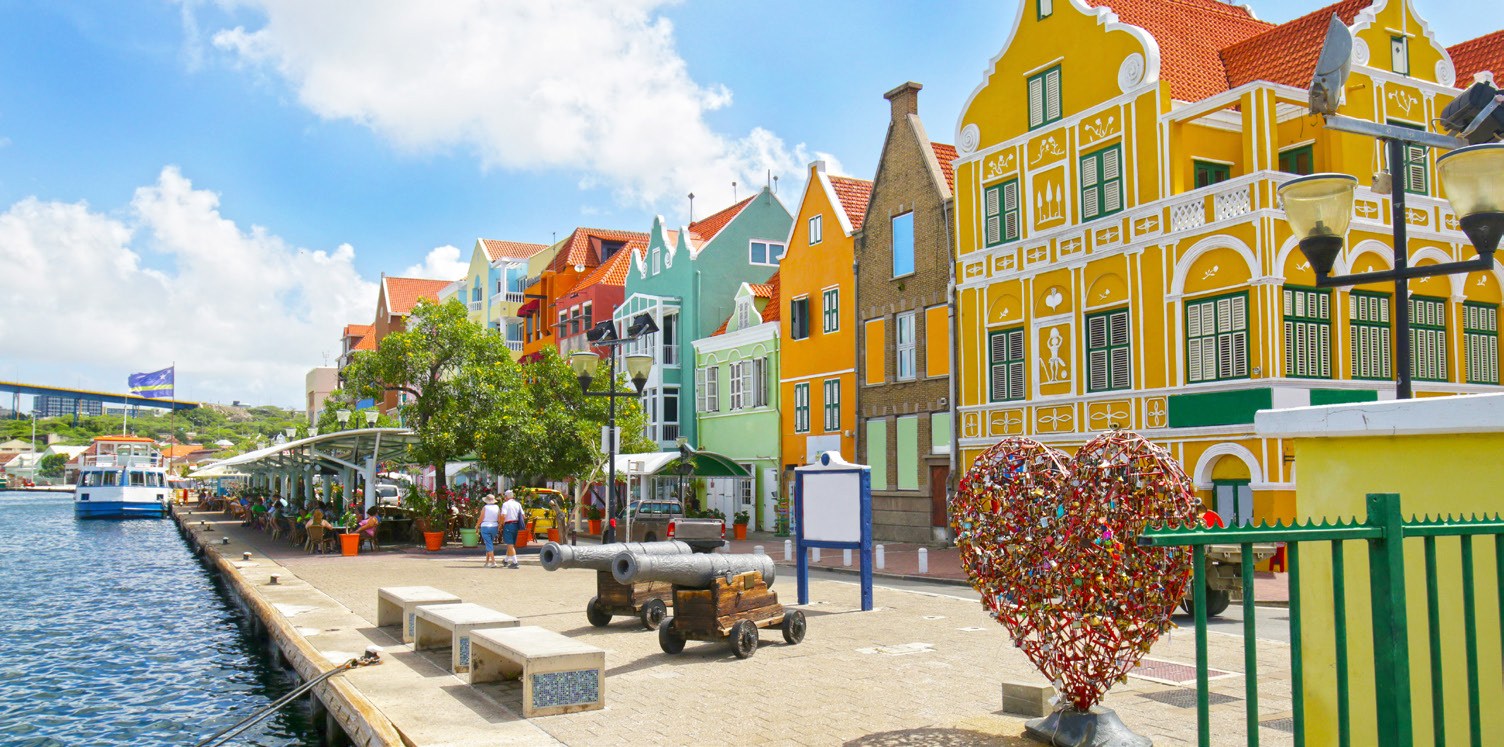 January 23-February 02, 2021
10 Night Southern Caribbean Cruise
Escape the winter cold on this 10 Night Southern Caribbean cruise. Engage in a variety of activities and sights aboard the Rhapsody of the Seas, as you explore the romantic attractions of Curacao and explore the sands of Aruba!
Booking Deadline: October 2, 2020
Pricing
| | | |
| --- | --- | --- |
| Stateroom Category | Double Rate Per Person | Single Rate Per Person |
| 2B Ocean View Balcony | $2,259 | $3,819 |
| 4B Spacious Ocean View Balcony | $2,199 | $3,679 |
| 2N Ocean View | $1,629 | $2,569 |
| 6N Ocean View | $1,579 | $2,469 |
| 2V Interior | $1,509 | $2,329 |
| 6V Interior | $1,419 | $2,149 |
All nonmembers must add $60 to the above rate.
Rates are subject to availability at time of booking and include taxes, fees and fuel surcharges which are subject to change. All pricing and included features are based on a minimum of 25 full-fare passengers.
Included Features
Free parking with roundtrip transfers to a local airport
All transfers between the airport and the pier
Ten nights aboard the Rhapsody of the Seas
All onboard meals and entertainment (specialty restaurants may have nominal fees)
AAA Welcome reception
Baggage handling
$50 onboard credit per stateroom
Services of a Discoveries Journey Manager

Airfare will be added when rates and schedules become available.
Highlights
Key West, Florida
This Southern part of the Florida Keys is perfect for exploration on foot or by bicycle. Visit Old Town, a short walk from the port for a selection of shops and restaurants. While browsing the plethora of attractions on the island, make sure to take in the wide variety of natural wonders as well.
Fun Things to Do:
Enjoy a better understanding of literary legend Ernest Hemingway as you visit his former home, which is now a museum dedicated to the life of this famous author.
The Key West Cemetery offers a unique perspective of the island and its former inhabitants. Due to building restrictions, all of the graves sit above ground in stone-encased caskets. Stroll around the grounds and take in the headstones, some containing humorous inscriptions like, "I told you I was sick."
While Key West might seem far from the conflicts of the Civil War, the Fort Zachary Taylor Historic State Park is a reminder that few places in the United States were immune to this historic battle. This museum houses the largest collection of Civil War cannons, as well as an extensive collection of weaponry and general memorabilia.
Kralendijk, Bonaire
This small capital town (pronounce Kraal-en-dake) boasts charming examples of Dutch-Caribbean architecture and a lighthouse that was erected in 1837. Towards the waterfront, experience what it's like to be a local by visiting the fish market near the waterfront. This market sells local fish and produce from nearby Venezuela.
Fun Things to Do:
Tour the island's defense Fort Oranje which was built in the 1600s. While the fort's weaponry was never actually used, it now houses the harbormaster and courthouse.
Museuo Boneriano is the place for more information about the island's history and a chance to experience an extensive collection of shells.
Walk in the footsteps of a former first lady with a visit to Wilhelmina Park. Here you can see a plaque commemorating a visit by Eleanor Roosevelt who visited U.S. troops stationed on the island.
Willemstad, Curacao
While this island may be relatively small, it is actually split into two different sections that each offer their own unique experiences for visitors. Otrobanda is the more modern side while Punda offers a romantic European ambiance that creates a fairy tale atmosphere. Visit both sides for opportunities to immerse yourself in this unique Dutch Island.
Fun Things to Do:
For a stunning example of Dutch architecture, visit the Mikve Israel-Emanuel Synagogue considered to be the oldest in the Western Hemisphere.
Gain an appreciation for local art with a visit to Landhuis Bloemhof. This gallery is housed in the former home of Max and May Henriquez who opened their home to artists and writers in the later part of the 20th century. Now the space is devoted to promoting local artists, as well as giving a peek into the lives of the former owners by displaying their books and photographs.
Take a stroll to the waterfront of downtown Willemstad where you can experience the unique Floating Market. This market features brightly colored awnings attached to merchant ships from Venezuela. These sailors travel to sell fish and produce directly from their boats making this a truly beautiful and unique experience.
Oranjestad, Aruba
Another excellent example of Dutch architecture in the Caribbean, Oranjestad offers a multitude of wonders all within walking distance.
Fun Things to Do:
Fort Zoutman, a restored 17th century fort and estimated to be the oldest building in Oranjestad, now houses artifacts of this island's past. From old maps to photographs, visitors can gain a better understanding of the island and its people with a trip to this historical site.
After time spent at the beach, the Aruba Aloe Museum and Factory might be a perfect way to spend some time in Oranjestad. This experience gives visitors an inside look into the growth and production of this plant, which is most commonly used to treat sunburn.
Get some shopping done by venturing to the Tourist Go Flea Market. This market might not be high-end, but it will provide a place to purchase items made by local artists and souvenirs.
Georgetown, Grand Cayman
Grand Cayman Island is a jewel in the Caribbean, known for its high quality of living. While the island itself may seem flat, a peek into the blue green Caribbean waters surrounding the island will tell a different story entirely. The waters just offshore are home to large coral reefs and steep sea walls that create conditions perfect for snorkeling and diving.
Fun Things to Do:
The Oro Verde site, home to wreckage from a 1976 transport ship has been repurposed into an artificial reef and now
provides a home to a plethora of marine life. This makes it an ideal and interesting spot to take a dive.
Rum Point provides a gorgeous beach that is full of amenities like hammocks, showers and restaurants all in a setting that
feels secluded from the hustle and bustle of the city center.
Gain a perspective of all that this island has to offer by visiting the Camana Bay Observation Tower. This 75ft tower offers
360 degree views from the top, which you can access by climbing a staircase or riding an elevator.
*Please see your Travel Agent to reserve your choice of shore excursions.*
Itinerary
| | | | |
| --- | --- | --- | --- |
| Date | Port | Arrive | Depart |
| 1/23 | Tampa, FL |   | 4:00PM |
| 1/24 | Key West | 11:00AM | 6:00PM |
| 1/25 | Cruising |   |   |
| 1/26 | Cruising |   |   |
| 1/27 | Kralendijk, Bonaire | 9:00AM | 6:00PM |
| 1/28 | Willemstad, Curacao | 8:00AM | 6:00PM |
| 1/29 | Oranjestad, Aruba | 7:00AM | 5:00PM |
| 1/30 | Cruising |   |   |
| 1/31 | George Town, Grand Cayman | 10:00AM | 6:00PM |
| 2/01 | Cruising |   |   |
| 2/02 | Tampa, FL | 7:00AM |   |
Itinerary is subject to change at anytime without notification and/or compensation.
General Information
Travel Documents
U.S. citizens on homeport cruises (cruises that begin and end at the same U.S. port) are currently able to enter or depart the country with a state-issued birth certificate with a raised seal and government-issued photo ID. AAA recommends traveling with an original, signed passport valid for 6 months beyond stay, and with at least one blank visa page for visa stamp(s). A government-issued photo ID that is REAL ID compliant is required for airport security.
Payment
Deposit of $450 per person/$900 per cabin will confirm your reservation. Final payment is due to AAA by October 2, 2020.
Solo Travelers Rewards Club maximum voucher redemption: $100
Cancellation/Penalties
Deposit date to day of departure $25 per person, plus…
From October 26 – November 9, 2020 - 25% of gross fare per person, plus any additional suppliers' fees
From November 10 – November 23, 2020 - 50% of gross fare per person, plus any additional suppliers' fees
From November 24 – December 23, 2020 - 75% of gross fare per person, plus any additional suppliers' fees
After December 24, 2020 - Non-Refundable
Insurance
For your protection AAA recommends travel insurance. Pre-existing medical conditions may be waived with proper coverage if travel insurance is purchased within 14 days of initial deposit only. Other conditions may apply; ask your travel agent. AAA recommends Allianz.
Clothing/Climate
Average temperatures in the Southern Caribbean in January and February range in the low 80s. Daytime, casual clothes and comfortable walking shoes are recommended. Evenings require casual or semiformal attire with 2 formal nights on board.
Baggage
Two suitcases per person will be allowed by the cruise line. You may also bring a small carry-on bag. Baggage fees and other charges may be directly assessed by airline or airport.
Travel Assistance
For personal comfort, group participants who need assistance are required to have a traveling companion who is capable of and totally responsible for providing the needed assistance.
Consumer Disclosure Notice - Part of Contract of Service.
Please read this notice, it constitutes part of your contract for travel-related services.
AAA TRAVEL is acting as a mere agent for SUPPLIERS in selling travel-related services, or in accepting reservations or bookings for services that are not directly supplied by this travel agency (such as air and ground transportation, hotel accommodations, meals, tours, cruises, etc.). This agency, therefore, shall not be responsible for breach of contract or any intentional or careless actions or omissions on part of such suppliers, which result in any loss, damage, delay or injury to you or your travel companions or group members. Unless the term "guaranteed" is specifically stated in writing on your tickets, invoice, or reservation itinerary, we do not guarantee any of such suppliers' rates, bookings, reservations, connections, scheduling, or handling of personal effects. Travel agent shall not be responsible for any injuries, damages, or losses to any traveler in connection with terrorist activities, social or labor unrest, climatic conditions, abnormal conditions or developments, or any other actions, omissions, or conditions outside the travel agent's control. Traveler assumes complete and full responsibility for, and hereby releases the agent from any duty of, checking and verifying any and all passport, visa, vaccination, or other entry requirements of each destination, and all safety or security conditions at such destinations. For information concerning possible dangers at international destinations, contact the Travel Advisory Section of the U.S. State Department. For medical information, call the Public Health Service. By embarking upon his/her travel, the traveler voluntarily assumes all risks involved in such travel, whether expected or unexpected. Traveler is hereby warned of such risks, and is advised to obtain appropriate insurance coverage against them. Traveler's acceptance and retention of tickets, reservations, or bookings after issuance shall constitute a consent of the above, and an agreement on his/her part to convey the contents hereto to his/her travel companions or group members.