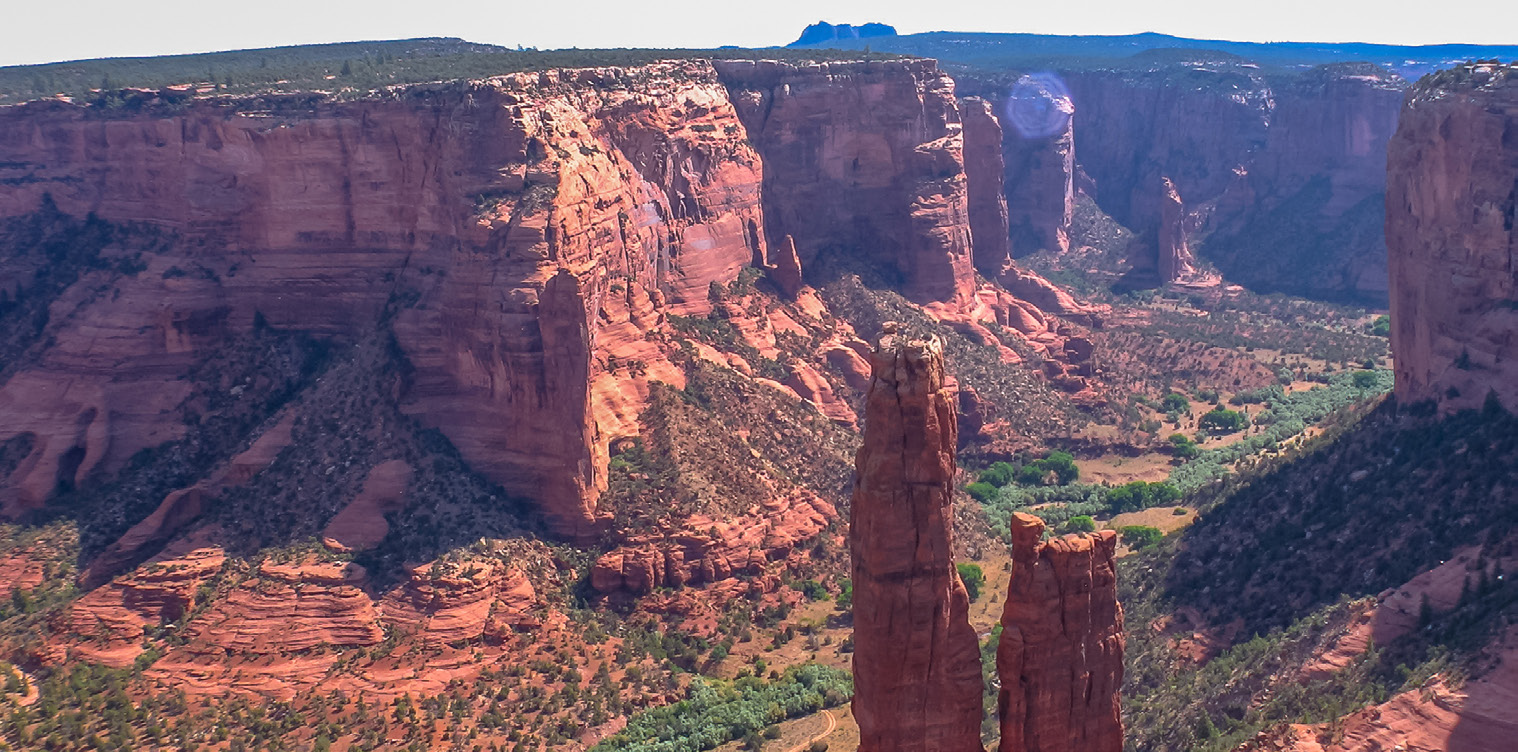 May 8 - 18, 2021
Southwest Native Trails
Don't miss this great trip to unique places in the US!
Booking Deadline: February 23, 2021
Pricing
| | |
| --- | --- |
| Occupancy | Rates Per Person |
| Double | $4,219 |
| Single | $5,419 |
| Triple | $3,859 |
All non-members must add $60 to the above rates.
Rates are subject to availability at time of booking and include taxes, fees and fuel surcharges which are subject to change. All pricing and included features are based on a minimum of 20 full-fare passengers.
Included Features
Free parking with roundtrip transfers to Baltimore Washington International Airport
Roundtrip airfare Baltimore to Albuquerque, NM
Roundtrip transfer - airport to hotel
Ten night hotel accommodations
Sightseeing as stated in itinerary by luxury motorcoach
Services of a Trafalgar Travel Director and Driver
Welcome Reception
Meals: 10 Breakfasts, 2 Lunches, 5 Dinners
All local taxes, hotel service charges and porterage
Gratuities for transfers, Travel Director and Driver
Services of a Discoveries Journey Manager
Highlights
Albuquerque Petyroglyph National Monument
Acoma Pueblo
Chaco Canyon National Historical Park
Gallup
Hubbell Trading Post National Historic Site
Hovenweep National Monument
Canyon of the Ancients Visitor Center and Museum
Canyon de Chelly National Monument
Monument Valley Tribal Park
Mesa Verde National Park
Taos Pueblo
Santa Fe
Durango, CO
Itinerary
Saturday, May 8: Arrive Albuquerque
Motorcoach from Central PA to Baltimore Washington International Airport for your flight to Albuquerque. Begin your cultural encounter with New Mexico in its warm heart of Albuquerque. Spend your day resting from your journey before joining your Travel Director and fellow travelers this evening for a Welcome Reception. Hotel: Hotel Sheraton Albuquerque Uptown, Albuquerque
Sunday, May 9: Petroglyph National Monument and Acoma Pueblo
Trace centuries-old stories etched in stone by Ancestral Pueblo peoples and early Spanish settlers when you visit the Petroglyph National Monument this morning. Continue your journey to Acoma Sky City Cultural Center & Haak'u Museum for a guided insight into one of the oldest continuously inhabited communities in the United States and the 28th Historic Site designated by the National Trust for Historic Preservation. Head back to your hotel in Albuquerque where the rest of the evening at your leisure. (Breakfast)
Monday, May 10: Albuquerque – Chaco Canyon National Historical Park – Gallup
One of the highlights of your Southwest journey will be our visit to Chaco Canyon within Chaco Culture National Historical Park. Chaco Canyon is one of America's most significant and fascinating cultural and historic centers of ancestral Puebloan culture. It was the central hub for ceremony, trade and administration for the entire Southwest area. See Pueblo Bonito, one of the most important "Great Houses" representing the apex of Anasazi, renamed Ancestral Puebloan, in modern day culture. With its 5 stories high and almost 700 rooms it stood as the largest structure in North America until the 18th century.
This evening, in Gallup, a special culinary treat awaits with dinner at Badlands Grill on old Route 66. (There are no paved road to access Chaco Culture National Historical Park. Guests will have to disembark the coach where the paved road stops, board a school bus for the bumpy ride to the main highlights of Chaco Canyon. Should weather conditions render the dirt road to Chaco Canyon unsafe, your Travel Director will arrange visits to other safely accessible destinations of historical and cultural significance.) Tonight, your 'Stay with Story' is historic El Rancho Hotel, home to many movie stars filming Westerns in the area throughout the 1930s and 1940s. Hotel: El Rancho, Gallup (Breakfast, Lunch, Regional Dinner)
Tuesday, May 11: Gallup – Hubbell Trading Post National Historic Site – Canyon de Chelly National Monument
This morning, stop at Window Rock, the capital of the Navajo Nation, where you'll see the Window Rock geologic formation and the World War II Navajo Code Talkers' Memorial and learn how Navajos helped the United States win WWII. Take a step back in time and visit the Hubbell Trading Post National Historical Site, and learn how the Navajo and settlers once traded. Delve into the story of Lorenzo Hubbell, who had a major influence on Navajo rug weaving and silversmithing. After a visit to the Canyon de Chelly Visitor Center, meet your certified Navajo Local Specialist and board your 4X4 vehicle to marvel at the stunning scenery with sandstone cliffs, canyons, and beautiful artwork in the forms of pictographs, petroglyphs and ruins. Hotel: Holiday Inn Chinle, Chinle (Breakfast, Dinner)
*Both Canyon de Chelly National Monument and Monument Valley Trival Park will be visited by four-wheel drive vehicles across uneven terrain. Wearing seatbelts will be mandatory or you will be denied boarding the 4WD vehicle.
Wednesday, May 12: Canyon de Chelly National Monument – Monument Valley Tribal Park – Bluff
Take in an ancient community built into a sandstone cliff as you peer over the edge of the White House Overlook to see the mastery of Ancient Puebloan construction. Watch nature defy gravity when you encounter Spider Rock and hear the legend of the mythical Spider Woman who is said to live in this towering stone spire. Enter Monument Valley National Tribal Park where your Local Navajo Specialists will accompany you on a 4X4 adventure. Enjoy an authentic Navajo lunch prepared alfresco. You'll also have the opportunity to visit an authentic Navajo Hogan. Hotel: Desert Rose Resort, Bluff (Breakfast, Lunch)
Thursday, May 13: Hovenweep National Monument – Canyons of the Ancients National Monument – Mesa Verde National Park
Head for Hovenweep National Monument, one of the most intriguing pre-historic settlements in the Southwest. Known for its six major villages and more than 300 additional sites within the National Monument. Travel across Canyons of the Ancients National Monument and wind along the Trail of the Ancients National Scenic Byway. Visit the Canyons of the Ancients Visitor Center and Museum (formerly known as The Anasazi Center), known as Southwest Colorado's leading archaeological museum, displaying exhibits on archaeology, local history and Native American cultures. Continue onto Mesa Verde National Park. Hotel: Far View Lodge, Mesa Verde National Park (Breakfast, Dinner)
Friday, May 14: Mesa Verde National Park – Durango
This morning see some of the best-preserved Ancestral Puebloan archaeological sites as you explore the park. Visit the Chapin Mesa Archaeological Museum, where you will also visit the park's third largest cliff dwelling, Spruce Tree House. This evening, your 'Stay with Story' is the historic Strater Hotel and dinner is your choice dining in Durango. Hotel: The Strater Hotel, Durango (Breakfast, Your Choice Dinner)
Saturday, May 15: Durango Free Time
A full day at leisure in Durango to pursue your own interests. Perhaps take a trip aboard the historic Durango & Silverton Narrow Gauge Railway. Return by coach via the spectacular San Juan Skyway Scenic and Historic Byway. Other options include mild to wild white water rafting along the Animas River or a visit to the outstanding Southern Ute Museum. (Breakfast)
Sunday, May 16: Durango – Taos – Santa Fe
Drive on to Taos Plaza, a Historical Landmark, where you'll enjoy some free time before we visit the Taos Pueblo, the only living Native American community designated both as a World Heritage Site and a National Historic Landmark. Meet your native Taos Local Specialist who will share insights about the Pueblo. Stop at San Francisco de Asís Mission Church, a historic and architecturally significant church and one of the finest examples of a Spanish Colonial New Mexico mission church. Continue to the colorful artists' retreat of Santa Fe. Hotel: Hilton Santa Fe Historic Plaza, Santa Fe (Breakfast)
Monday, May 17: Santa Fe Sightseeing
A Local Specialist reveals the secrets of Santa Fe, starting at the historic Santa Fe Plaza. A special treat awaits at Del Charro where you'll 'Dive into Culture' and enjoy the rich flavors of a local favorite-Natillas. The afternoon is free to enjoy at your leisure. This evening, the dining capital of the Southwest puts its best foot forward with an unforgettable Farewell Dinner at one of Santa Fe's most iconic settings. (Breakfast, Farewell Dinner)
Tuesday, May 18: Depart Santa Fe
After breakfast, bid farewell to Santa Fe and transfer to Albuquerque Airport for your return to Central Pennsylvania. (Breakfast)
*Please see your Travel Agent to reserve your choice of shore excursions.*
Tour Activity Level: 4
To truly experience the program and destination, you need to be able to participate in physical activities such as longer walking tours, walking over uneven terrain, climbing stairs, and periods of standing. Some of the touring days may be longer, with select included activities occurring later in the evening.
General Information
Travel Documents
A government-issued photo ID that is REAL ID compliant, or a valid passport will be required for airport security.
Payment
A non-refundable deposit of $225 per person will confirm your reservation. Final payment is due to AAA by February 23, 2021.
Solo Travelers Rewards Club maximum voucher redemption: $100
Cancellation/Penalties
Deposit date to day of departure $25 per person, plus…
From deposit date –Mar 9, 2021 - $200 per person, plus additional suppliers' fees
From March 10 – April 22, 2021 - 30% per person, plus additional suppliers' fees
From April 23 – April 30, 2021 - 50% per person, plus additional suppliers' fees
From May 1 – May 7, 2021 - 90% per person, plus additional suppliers' fees
After May 7, 2021 - NON-REFUNDABLE
*Airfare is non-refundable after final payment.
Insurance
For your protection AAA recommends travel insurance. Pre-existing medical conditions may be waived with proper coverage if travel insurance is purchased within 14 days of initial deposit only. Other conditions may apply; ask your travel agent. AAA recommends Allianz.
Flight
Since air arrangements are handled by the tour operator, seat assignments cannot be confirmed until the tour operator releases names to the airline(s) 30 days prior to departure. Specific seat requests cannot be guaranteed; seats are assigned at the discretion of the airline at airport check-in only. Some flight schedules may contain code share agreements.
Clothing/Climate
Average temperature for the region in May is in the 70s. Pack for a variety of temperatures. Casual clothes that can be layered are suggested.
*There will be a lot of walking along uneven terrain. Comfortable walking shoes, strong sun protection, hat and sunglasses are strongly recommended. Plenty of water will be provided so that guests stay hydrated.
Baggage
One suitcase per person will be allowed. You may also bring a carry-on bag small enough to fit under your seat. Baggage fees and other charges may be directly assessed by airlines or airport.
Travel Assistance 
For personal comfort, group participants who need assistance are required to have a traveling companion who is capable of and totally responsible for providing the needed assistance.
Consumer Disclosure Notice - Part of Contract of Service.
Please read this notice, it constitutes part of your contract for travel-related services.
AAA TRAVEL is acting as a mere agent for SUPPLIERS in selling travel-related services, or in accepting reservations or bookings for services that are not directly supplied by this travel agency (such as air and ground transportation, hotel accommodations, meals, tours, cruises, etc.). This agency, therefore, shall not be responsible for breach of contract or any intentional or careless actions or omissions on part of such suppliers, which result in any loss, damage, delay or injury to you or your travel companions or group members. Unless the term "guaranteed" is specifically stated in writing on your tickets, invoice, or reservation itinerary, we do not guarantee any of such suppliers' rates, bookings, reservations, connections, scheduling, or handling of personal effects. Travel agent shall not be responsible for any injuries, damages, or losses to any traveler in connection with terrorist activities, social or labor unrest, climatic conditions, abnormal conditions or developments, or any other actions, omissions, or conditions outside the travel agent's control. Traveler assumes complete and full responsibility for, and hereby releases the agent from any duty of, checking and verifying any and all passport, visa, vaccination, or other entry requirements of each destination, and all safety or security conditions at such destinations. For information concerning possible dangers at international destinations, contact the Travel Advisory Section of the U.S. State Department. For medical information, call the Public Health Service. By embarking upon his/her travel, the traveler voluntarily assumes all risks involved in such travel, whether expected or unexpected. Traveler is hereby warned of such risks, and is advised to obtain appropriate insurance coverage against them. Traveler's acceptance and retention of tickets, reservations, or bookings after issuance shall constitute a consent of the above, and an agreement on his/her part to convey the contents hereto to his/her travel companions or group members.