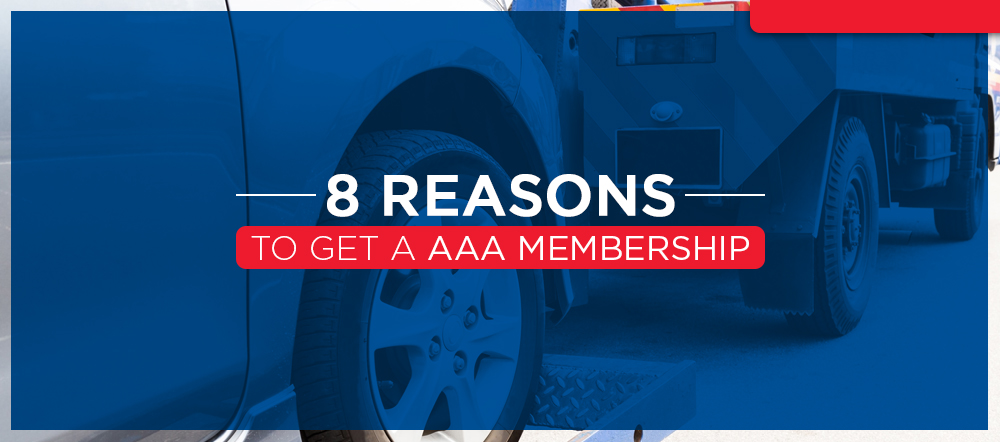 A membership with AAA gets you more than you may know. Whether you're already a member, thinking about joining or want to gift a membership to someone you know, there are plenty of reasons to join AAA.
Why get a AAA membership? We've put together eight reasons below to help make your decision easier or to help those who are already members maximize their investment. Perhaps you're looking to upgrade, or maybe you never knew what other benefits you could get with your membership. No matter the reason, here's why you should get a AAA membership for yourself or someone else.
Read the full article or jump to a specific section: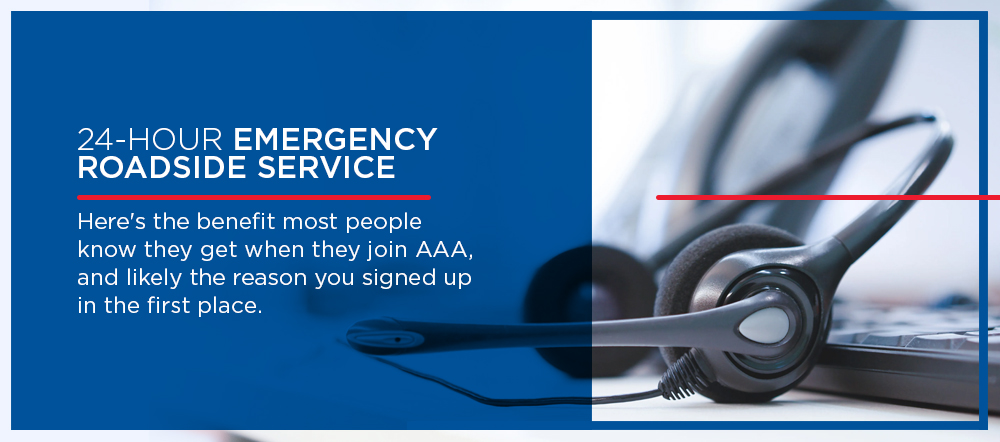 1. 24-Hour Emergency Roadside Service
Here's the benefit most people know they get when they join AAA, and likely the reason you signed up in the first place. Your car has broken down, you've hit a pothole and ended up with a flat tire or you're experiencing some other issue with your vehicle. Without a AAA membership, you may feel stranded, lost or stressed. When you're a AAA member, you get access to emergency roadside service 24 hours a day. That includes the following.
Mechanical Assistance
These mechanical adjustments are typically minor or temporary, made to help your vehicle operate until you can reach a gas or charge station, get a replacement tire or another solution. Call AAA to provide these roadside services:
Battery service
Fuel delivery
Charge help for electric vehicles
Flat tire help
Fixing other mechanical issues
And more
After a roadside emergency, you just want reassurance that your car will be OK. Some problems, like running out of gas or a charge, aren't as major as others, but you still want the comfort of knowing you can still operate your vehicle.
No matter what you're experiencing, a responder can help you troubleshoot your issue. Get even more peace of mind when you know not only that you can get roadside help any time of day, but also that our responders will help figure out the issue and walk you through it.
When you find yourself in a roadside emergency, pull off the road and contact us at AAA. We'll do our best to get to you as quickly as possible, no matter the issue with your vehicle. Just tell us your location and what you think happened or your best guess about what's wrong with your car. Stay with your car if it's safe to do so and wait for help to arrive.
With our 24-hour emergency roadside service, you get peace of mind. When you have a roadside emergency, our experts are ready to help with specific repairs. Plenty of problems can stop your journey, but AAA can just as readily solve them. Whether you gift a membership to someone in your family or have it yourself, you'll know that if things should go wrong, you'll be in good hands with us.
Complimentary Towing
Sometimes, roadside incidents require more help, but AAA is still there for you. If our responders can't fix your car, they'll tow your vehicle for you and take you to someone who can. No need to arrange a towing service yourself after a visit from a AAA responder with complimentary towing. Depending on your membership, you get different towing distances, so be sure to choose the plan that gives you the most peace of mind.
AAA Classic: Get five miles of free towing per call with a AAA Classic membership. This option is best if you find yourself driving in areas close to service locations and don't expect to be too far away from them.
AAA Plus: When you upgrade to a AAA Plus membership, your miles of free towing per call jump up to 100. Maybe you often drive through less populated areas that are far from service locations, or perhaps you want extra comfort and security with your membership. A AAA Plus membership is the best value, and with so many more miles covered, it's one of the best choices.
AAA Premier: Our AAA Premier members get a free 200-mile tow with their first call in a membership year. After that, your free towing is good for up to 100 miles. This plan gives you the ultimate distance and protection, perfect if you need to travel long distances.
Some insurance plans may offer towing services, but they may not be complimentary or give you as much distance as a AAA plan does. With our other benefits on top of complimentary towing services, you get the ultimate service from us.
2. Locked Key Retrieval
If you've locked your keys in your car, you know how frustrating that can be. You have somewhere to go, and now you're staring forlornly at your keys inside your locked car. If you don't have a spare or you're not at home to grab your extra keys, you may feel like you're out of luck, but not if you have a AAA membership.
When you've checked that all the doors and the trunk are locked and there's no way back in your car, don't try any DIY methods that risk damaging your vehicle. Instead, contact us at AAA for emergency help.
Our emergency roadside service includes the benefit of helping members who lock themselves out of their vehicles. We'll send a technician or locksmith to you right away to help you get back in your car and back on the road. Get to work, pick up your kids from school or finish running your errands. Never feel stranded again if you've got a membership with AAA. Mistakes happen, and we know how it can throw off your whole day, so our goal is to help as quickly as we can.
AAA Premier members even get home lockout reimbursement when they need a locksmith service to gain entrance into their primary residence, yet another way AAA is there for you. Don't let a hectic morning slow you down. Whether you leave your keys inside your home or your car and get locked out, AAA is there to help.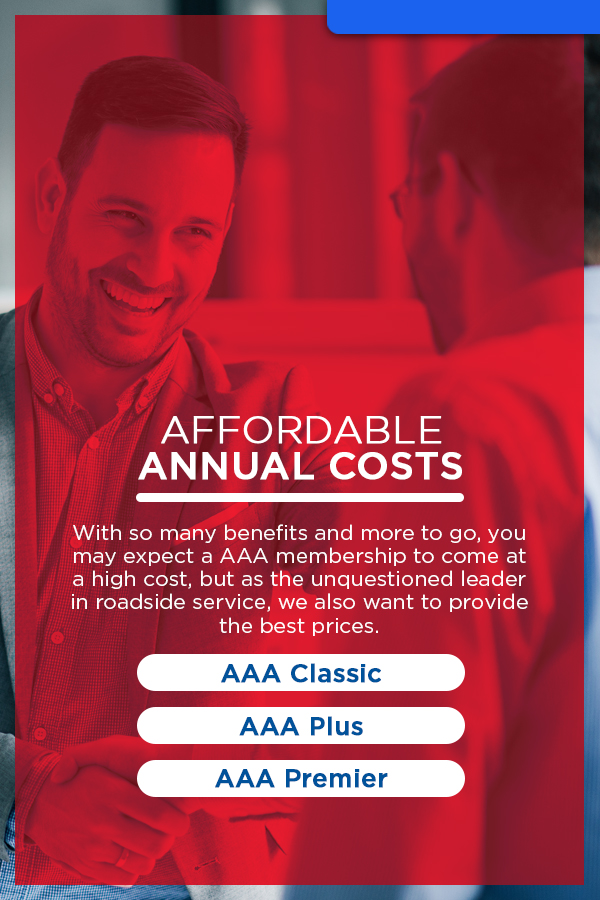 3. Affordable Annual Costs
With so many benefits and more to go, you may expect a AAA membership to come at a high cost, but as the unquestioned leader in roadside service, we also want to provide the best prices. Our three different membership levels offer affordable annual costs and plenty of useful services, which you'll find a summary of below. All pricing below reflects current rates as of April 2020.
AAA Classic
A Classic membership with us is currently $59 per year for the primary member and an extra $43 for every member you add on to your plan. Some of the perks of this plan include:
Four annual service calls
Up to five miles of free towing per call
Free fuel delivery, with additional fuel cost
Flat tire change services
One truck service of emergency extraction or winching
Bicycle assistance
And a few more features
AAA Plus
A AAA Plus membership is currently $89 per year and $71 for other members. We consider it our best-value plan because of its benefits and services, which include:
Four annual service calls
Up to 100 miles of free towing per call
Free fuel and free fuel delivery
Flat tire change services
Two truck services of emergency extraction or winching
Bicycle assistance
Optional motorcycle and RV coverage for $35
And more features
AAA Premier
The AAA Premier service is for those who want the most advantages and coverage. It's currently $124 per year for the primary member and $71 for other members. You and your other AAA Premier members will get services like:
Four annual service calls
Free 200 miles of towing for your first call of the year
Free 100 miles of towing for the other three calls of the membership year
Free fuel and free fuel delivery
Flat tire change services
Two truck services of emergency extraction or winching
Bicycle assistance
Optional motorcycle and RV coverage for $35
The home lockout benefit
And other features and services
4. Financial Services
At AAA, we want our members to experience even more than roadside assistance. Along with our affordable annual costs, our financial services provide opportunities to save, invest and protect your finances. Learn about some of our AAA financial services to see more of our dedication to our members.
Visa® Rewards Credit Card
AAA members get exclusive access to the AAA Member Rewards Visa Signature® credit card. Featuring access to unlimited rewards and exclusive deals, including coupons and other discounts, this AAA membership benefit helps you earn on purchases you planned on making anyway.
ProtectMyID®
Safeguard your identity with AAA. Our ProtectMyID® service keeps your identity safe and sound as we monitor for suspicious activity on your AAA Visa credit card or your account. We'll help you detect and solve any identity threats with various levels of protection.
Essential: This simple identity protection service is free for AAA members and provides peace of mind with Experian® credit monitoring and other services.
Deluxe: Protect more with this coverage level that includes dark web surveillance, identity theft insurance and plenty of other offers.
Platinum: Monitor and protect the most with our Platinum level, which includes social media and child identity protection and much, much more.
5. Travel Planning
If you're planning a trip out of the country, you don't have to go it alone. A AAA membership comes with benefits for world travelers that you may not expect. Visit a Central Penn branch near you or contact us to use these financial travel services:
Financial services to help you understand exchange rates
Visa Prepaid Cards and Gift Cards for security and convenience while paying for products and services abroad
The ability to order over 90 different currencies at all AAA Central Penn branches
TipPaks®, prepackaged foreign currency, perfect for travelers who only need a small amount for their travels
Our convenient travel planning services make AAA a one-stop shop for protection and convenience in and out of the country.
6. Driver Education
We want the roadways to be safe for every driver and passenger. That's why we offer driver education services to our members. We extend these driving education services to our members who want training for the following.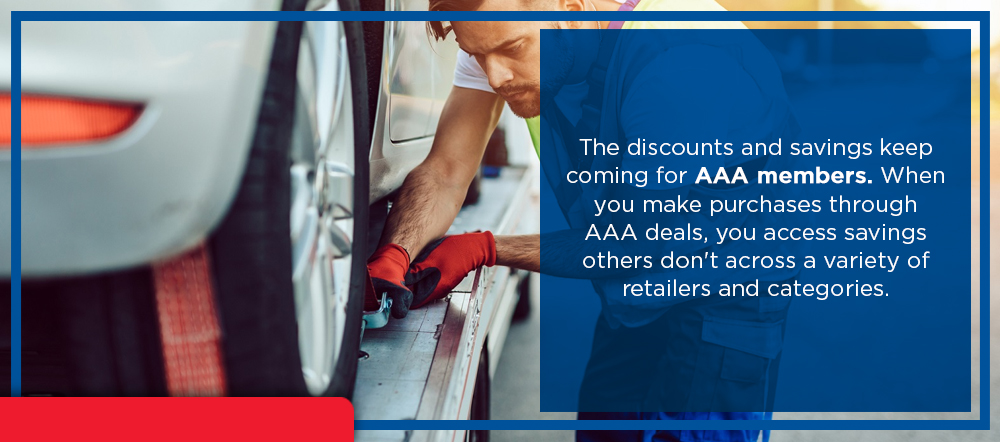 7. Discounts and Savings
The discounts and savings keep coming for AAA members. When you make purchases through AAA deals, you access savings others don't get across a variety of retailers and categories. Some brands and options that offer a AAA membership discount include:
Dell
GoodRx
Hard Rock Cafe
Hertz Car Rental
Hilton Hotels & Resorts
Kings Dominion
NAPA
Shell
Sprint
Susquehanna Art Museum
And plenty more
AAA gives you access to discounts for automotive needs, entertainment, travel, health, home, shopping, dining and more. These deals also include local offers, and change on occasion to give our members a rotating selection of discounts and savings.
Be sure to check out the current deals to see if there are offers on anything you've been waiting to buy. Try something new and local, or save on your everyday purchases. These discounts are just one way we like to thank our members for trusting us to provide them with roadside services.
8. Services Connected to the Member
Whether you're driving your car or you're the passenger in someone else's, your AAA benefits stay with you, not a particular vehicle. Drive with others knowing you have AAA by your side in case of an emergency. Friends and family will appreciate having you as a passenger, and you'll love the convenience and comfort being a AAA member provides, whether you're riding in your car or someone else's.
With the Basic or Plus plan, your AAA services apply to any four-wheeled vehicle, even rental cars. If you have the motorcycle and RV add-on for the Plus or Premier membership, you can also use our services for motorcycles, RVs, dual-wheel pickup trucks and others. Choose the plan that suits what vehicles you drive or ride in most often for the best coverage.
Because our services cover you no matter where you go or who is driving, you get incredible convenience. If you need to borrow someone else's car to get to work one day or drive a friend's vehicle while yours gets inspected or serviced, you still have your AAA benefits. Insurance coverage only follows the vehicle you register it with, so even if you do get towing or other limited services, it's only for one car. A membership with AAA gives you the freedom and ease of protection, no matter who you ride with or what vehicle you drive.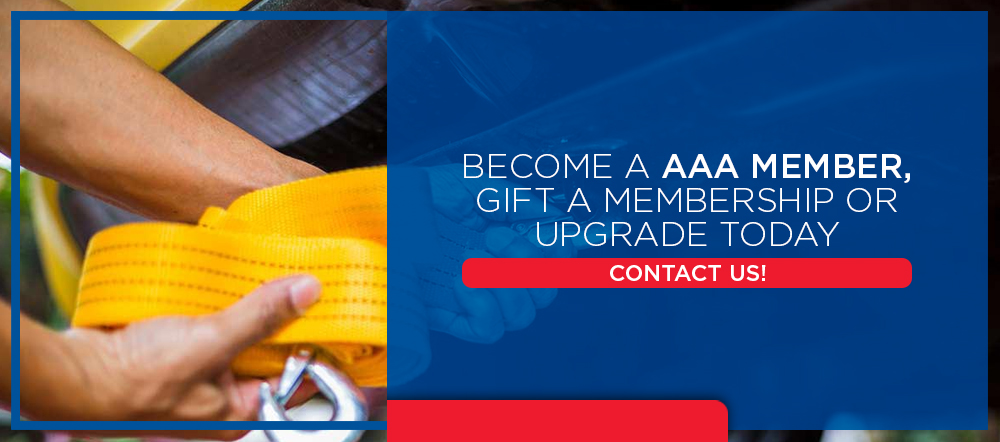 Become a AAA Member, Gift a Membership or Upgrade Today
With so many more benefits than roadside assistance, being an AAA member is worth the peace of mind, the convenience and the savings. AAA makes a thoughtful gift for a family member or new driver, and the benefits get better with every level.
Gift a membership today or get one for yourself if you aren't a member yet. If you're already a member with us, consider upgrading to our Plus or Premier tiers for even more benefits. Experience excellence in roadside service and customer care with a AAA membership.
The AAA Member Rewards credit card program is issued and administered by Bank of America, N.A.  Visa and Visa Signature are registered trademarks of Visa International Service Association, and are used by the issuer pursuant to license from Visa U.S.A. Inc.