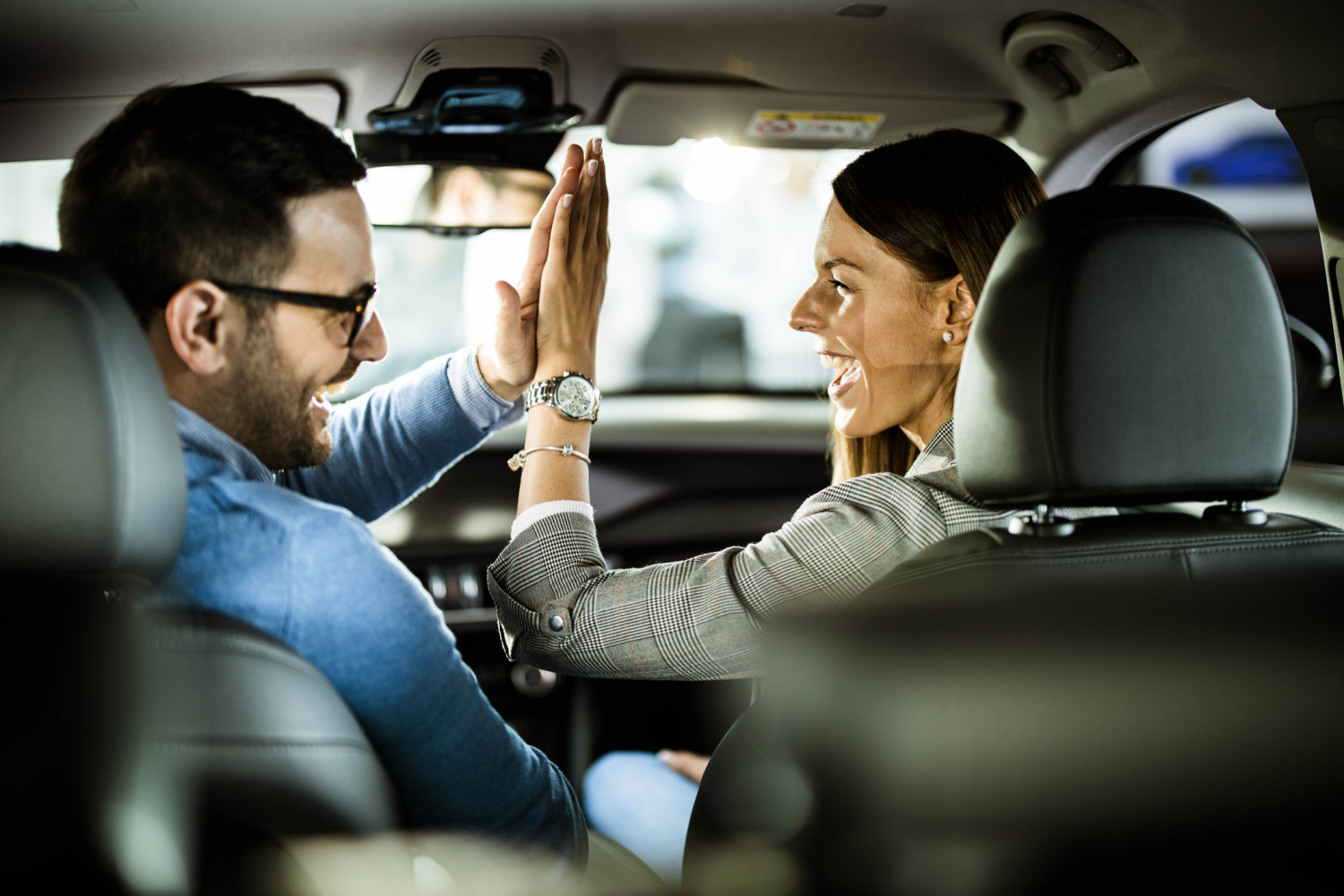 AAA Membership Benefits
At AAA, we offer services beyond just roadside assistance to discounts, travel assistance and insurance. 
Becoming a member of AAA comes with a wide variety of perks. While you may know it best as a club for drivers, providing roadside assistance and other automotive and travel-related benefits, there's so much more to a AAA membership. AAA advocates for traveler safety and helps to make the roads a safer place for all. Beyond just roadside assistance, members enjoy a whole host of additional AAA benefits, discounts and other advantages you may not even be aware of. Check out some of our favorite reasons to invest in a AAA membership. 
Automotive Services
Likely the best-known reason to invest in a AAA membership is the comprehensive automotive coverage we provide our members. Whenever an automotive issue leaves you stranded, AAA is just a call away. Whether you have a flat tire or a dead battery, you've run out of gas, are locked out of your car or need towing to the nearest service station, the various levels of AAA membership can provide help when you need it most. 
Each member can make several service calls every year, and coverage follows the member, not the vehicle. So, no matter what car you're driving, you can get help. AAA roadside assistance services are available 24 hours a day, seven days a week. 
Driver Education
The drivers' training courses through AAA are a crucial extension of our commitment to safety for all drivers on the road. For teenagers who are ready to learn to drive, AAA offers short "Dare to Prepare" seminars to introduce topics necessary for driving and give information on how to get a drivers' license. More comprehensive behind-the-wheel classes for teens are also available through AAA, so your new driver will be ready to ace the driving test and become a safe, responsible driver. 
The AAA driving school is also proud to offer classes in defensive driving, mature operator classes and safety training for corporate and fleet driving. All our classes educate drivers and empower them to make safe, responsible driving choices. It is our goal to reduce the number of crashes on the roads through quality drivers' education. 
Travel Planning
One of the best AAA membership perks is the help we provide with travel planning. Let AAA be your travel agent, giving you the best recommendations for places to see and go, personalized to your requests and preferences. We can even make all the reservations for you and find you the best prices and deals. As a AAA member, you can enjoy other travel rewards too, like extra cruise ship credits, unique experiences, priority check-ins just for members and so much more. 
Our experienced agents can assist you with any travel-related questions and issues like obtaining passports, travel insurance, and more. You can call AAA with your emergencies or travel questions, at any time of the day and from anywhere in the world. We can help you book not only hotels and cruises, but also extras like rental cars and tickets to events and attractions.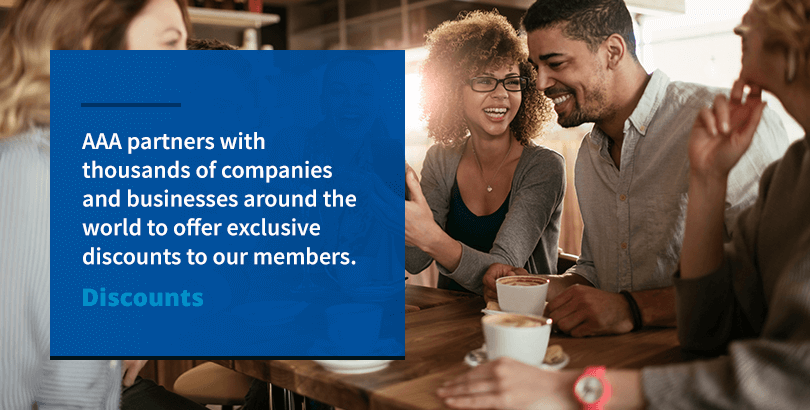 Discounts
AAA partners with thousands of companies and businesses around the world to offer exclusive discounts to our members. Plan your travel arrangements through AAA to get the best discounts on cruise ships, hotels, rental cars, attractions and more. Show your membership card at all sorts of businesses and retailers for discounts up to 30% off. More than 30,000 online retailers have partnered with AAA to offer online shopping deals, too. The savings add up and make membership worthwhile. 
Financial Services
With your AAA membership, you have access to a variety of high-quality financial products and services. AAA provides banking options to members like savings accounts, money market accounts, certificates of deposit and IRAs. Our services also include credit monitoring and identity theft monitoring as well as support for fraud resolution.
Insurance Offers
Get all your insurance needs through AAA and experience customized coverage designed to fit your personal needs. AAA membership benefits include discounts on our already competitive rates for auto insurance. Insure your car, boat, RV, motorcycle and more. AAA offers more than auto insurance, too. As a member, you can enjoy the protection of homeowners' or renters' insurance, tailored to fit your unique circumstances. We also provide life insurance — both whole and term life policies — so you can protect your family in the event of the unexpected. Keep your pets healthy with pet insurance through AAA, too! We are proud to provide a wide range of insurance products, designed to fit your life, including extras like travel insurance and auto warranty protection. Just ask your AAA agent for a free quote.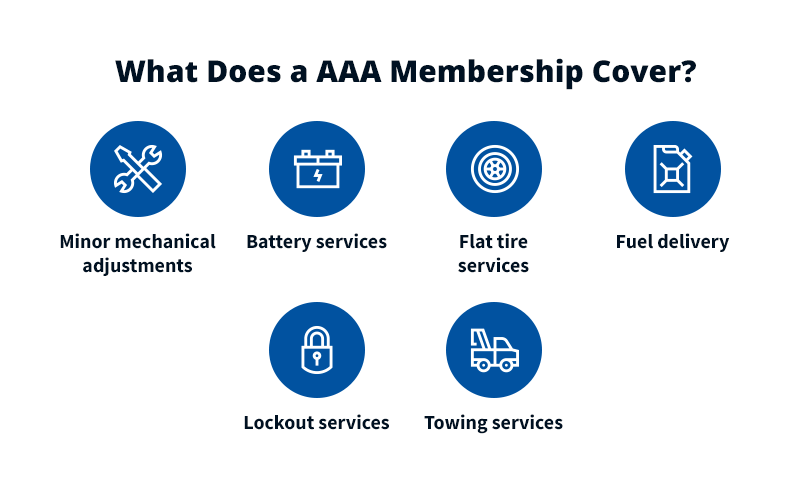 What Does a AAA Membership Cover?
There are many reasons to join AAA, but how does AAA membership work? You might know AAA best for providing roadside assistance services to stranded motorists. The membership benefits follow the member, not the vehicle, so even if you are in a friend's car or rental car, you can still call for assistance. With membership, you can make up to four service calls per year, for any of the following reasons.
Minor mechanical adjustments: Small repairs to get your vehicle back safely on the road
Battery services: Testing, providing a battery boost or battery replacement if needed 
Flat tire services: Replacement with an available spare tire or towing to a nearby service station for tire replacement
Fuel delivery: We deliver gas to your vehicle if you've run out. You're responsible for paying current fuel prices for delivered fuel. 
Lockout services: We include locksmith services for up to $50.
Towing services: If the above services cannot get your vehicle safely back on the road, we're happy to tow it to a nearby service station.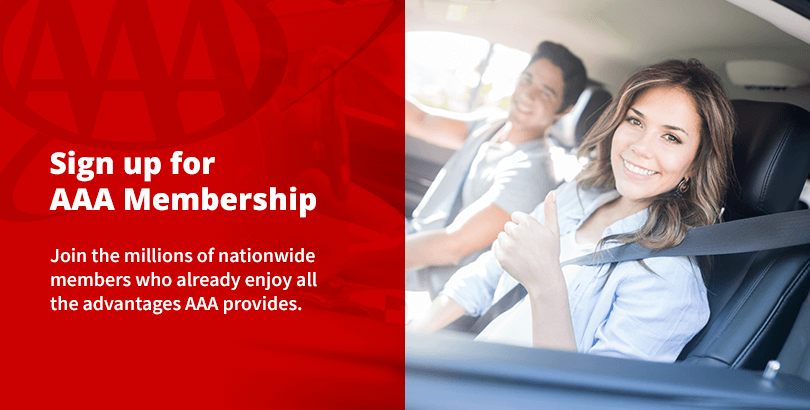 Sign up for AAA Membership
To experience all these outstanding benefits, sign up for a AAA membership today. Your AAA membership card benefits include roadside assistance and a myriad of additional perks, discounts and more. Join the millions of nationwide members who already enjoy all the advantages AAA provides. You can choose the level of membership that best fits your needs and lifestyle, or contact an agent with any questions you might have. Call us today at 800-717-4222, or check us out online. We look forward to serving you! 
Membership Benefits
Sign up for a AAA membership today and start taking advantage of the benefits! 
Contact AAA
Questions about your AAA membership? Contact Membership support.