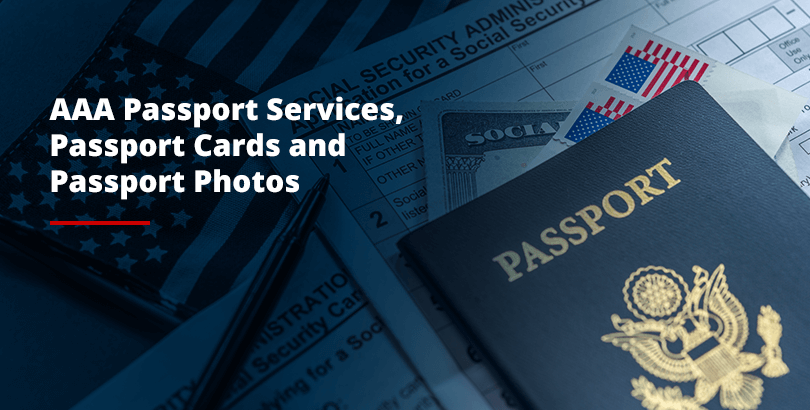 Traveling abroad can be an exciting adventure, but there are administrative obligations to fulfill before you can take off. Applying for or renewing a passport can be a bit of a hassle because you need to ensure you have all the right documents and forms, and the smallest error can result in a denied application.
Luckily, AAA has several passport services to help make the application process much smoother.
Read the full article or skip to a specific section: 
Passport Services Offered by AAA
While AAA cannot issue passports, we have specific services to assist members — and even non-members — with passport applications and renewals. Some of the passport services we provide include:
Applications for new passports or passport renewals
Passport photos
Application forms for passport books and passport cards are available at many AAA locations, so you can pick one up to fill out ahead of time. AAA passport renewal services also include specific renewal forms you can fill out and mail in with the required supplementary material.
Many AAA locations also provide discounted or free passport photos, depending on your membership tier. These photos are the required 2 inches square, and you can use them when applying for or renewing both your passport book and passport card.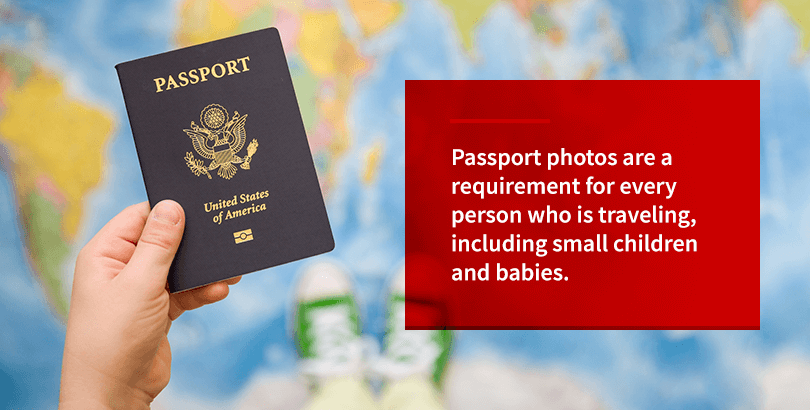 Does AAA Do Passport Photos?
If you're asking, "Can I get a passport photo at AAA?" you'll be glad to know that the answer is a resounding yes. Just like there's a AAA driver's license photo center, there is also a AAA passport photo center. These photos follow the requirements of U.S. Passport and Immigration Services, being 2 inches square in size, and each set includes two photographs.
The cost of the photos varies based on which level of membership you have.
Plus or Premier: One set of passport photos per year at no extra cost, $8.45 for two sets and $10.45 for three sets.
Classic: $8.45 for one set, $10.45 for two sets and $12.45 for three sets.
Non-members: If you don't have a membership, you can still walk into an AAA location and purchase passport photos for $15 for one set, $17 for two sets and $19 for three sets.
Any additional sets of photos cost $5, regardless of whether you're a member, and extra photos can only be of the same person. To take advantage of this bargain, the AAA member must show proof of their valid membership. 
Passport photos are a requirement for every person who is traveling, including small children and babies. AAA passport photo centers will take pictures of small children who can sit up unassisted.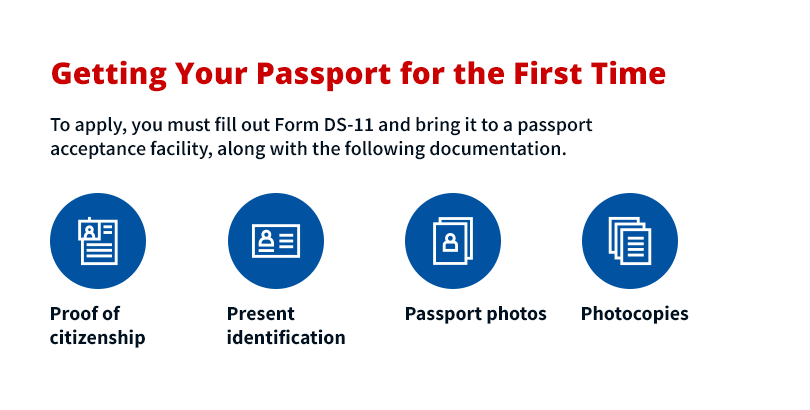 Getting Your Passport for the First Time
If you've never applied for a U.S. passport or if your previously issued one has expired, you will need to get a brand-new one. You'll need to apply for a passport in person if: 
You're under 16 years old
You received your previous passport when you were under 16 years old
Your previous passport was lost, stolen or damaged
You got your previous password more than 15 years ago
To apply, you must fill out Form DS-11 and bring it to a passport acceptance facility, along with the following documentation.
Proof of citizenship: This proof can include a birth certificate, a certificate of naturalization or a certificate of citizenship.
Present identification: Any piece of ID that proves that you are a citizen currently residing in the U.S. can include a driver's license, a green card, your previous undamaged passport or a government employee identification.
Passport photos: AAA locations that offer passport services can provide you with the appropriate picture to include in your application.
Photocopies: You should include a one-sided photocopy of every page of your proof of citizenship, as well as your present identification, in your application package. 
Once you have submitted your application, it can take up to six weeks to process it. However, you can follow the application's status online.
Renewing Your Passport
If your previous passport is about to expire but is still valid, you can apply for a simple renewal. While you're more than welcome to renew your passport in person, you can also pick up a passport renewal form — Form DS-82 — at a AAA location to fill out and mail in with the supplementary documents. 
When you mail your application, remember to include the following items.
Your old passport: You'll need to submit your old passport along with the form as long as your old passport is not damaged and you received it within the previous 15 years.
Passport photos: Take advantage of the ease and convenience of AAA's passport services by getting passport photos while picking up your renewal form to speed up the process.
When applying for a passport renewal, make sure that your current legal name matches the one on your old passport. If it doesn't, you'll need to provide documents proving that you have changed your name. 
Online Passport Procedures
In the age of modern technology, you now also have the option to submit your applications using online services. Passport application and renewal forms are all available online, and you can fill them out on your computer, then print them and submit them. 
The forms are available as PDFs for you to complete using the handy Form Filler tool. This tool creates a barcode unique to your application, which will make it easier and quicker to process. After you've filled out the form, print it, sign your name and submit it with the required documents.
If you're applying for your first passport, you'll need to take the form to a passport acceptance facility, but if you're renewing your passport, you can mail everything in.
Additional Information for Travelers From AAA Insurance
Securing passports is just one part of planning a trip abroad. Here are four travel tips to keep in mind when you're planning your next vacation.
Get a driving permit: If you're traveling to a different country and plan on doing some driving there, you may need a special permit to do so. AAA can help you get an international driving permit, so you can have peace of mind and even be a little spontaneous on your trip.
Avoid currency exchanges: Often, currency exchanges, especially at airports, charge too high a fee for them to be worthwhile. Instead, AAA members have the advantage of ordering foreign currency at some locations, so you can take what you need before you go.
Notify your bank: There's nothing worse than enjoying a delightful meal in a foreign country, only to have your credit card declined when you need to pay. Banks will block cards if they suspect suspicious activity, like purchases in different countries, so make sure to let your bank know where you're going and for how long.
Skip the cash: Instead of worrying about whether you have enough cash with you, get a AAA TravelMoney Visa debit card. This prepaid card works at any point of sale that accepts Visa and allows you to travel hassle-free, never having to worry about pickpockets or going over budget.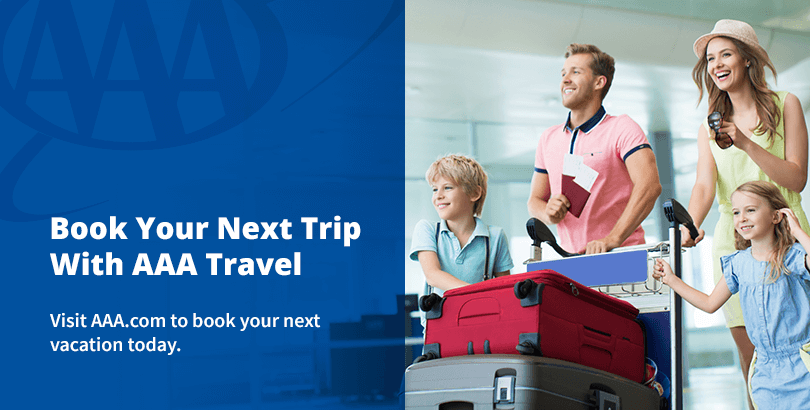 Book Your Next Trip With AAA Travel
Being an AAA member has its perks, and one of those is access to experienced travel agents and travel deals to make your next trip more memorable. Whether you want advice booking a hotel or a flight, AAA Travel is here to help you ensure you have the best vacation. With additional benefits, such as free passport photos for members and exclusive discounts to sought-after attractions, AAA Travel can help plan your next trip with ease.
Visit AAA.com to book your next vacation today.