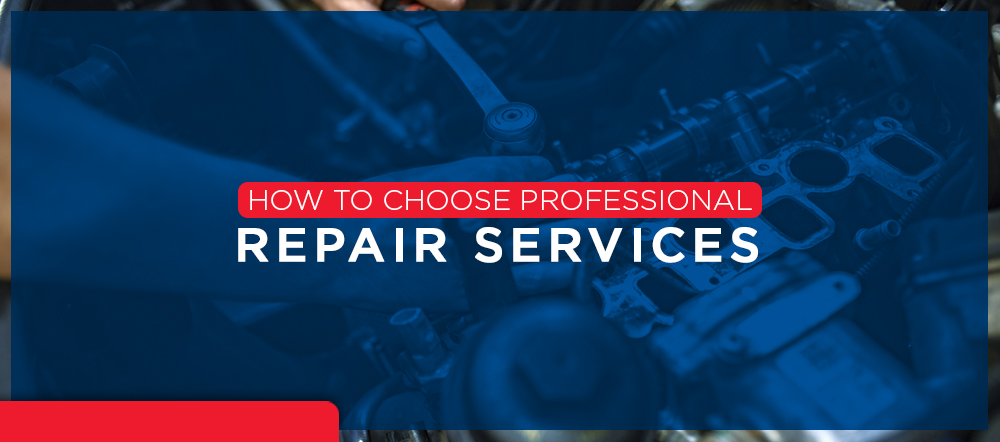 If you've just moved to a new area, or your car is showing signs of wear, you might be in search of a new mechanic. With hundreds of independent service shops, quick-repair centers and dealerships to choose from, how do you know where to take your car? According to a AAA study, two out of three U.S. drivers do not trust auto repair shops. Luckily, 65% have found one repair shop they do trust. For the one-third of Americans who have yet to find a mechanic they can count on, we are here for you.
9 Tips for Choosing the Best Automotive Repair Company
The best way to find trustworthy auto repair shop services is to start looking before you need them. If your car breaks down and you need to get back on the road quickly, you're likely to go to the nearest repair shop — which is not necessarily the one that will take the best care of you. So, start looking now. Browse online for customer reviews, credentials and availability of services. Try visiting in person, gathering estimates and asking questions to get a sense of a mechanic's experience.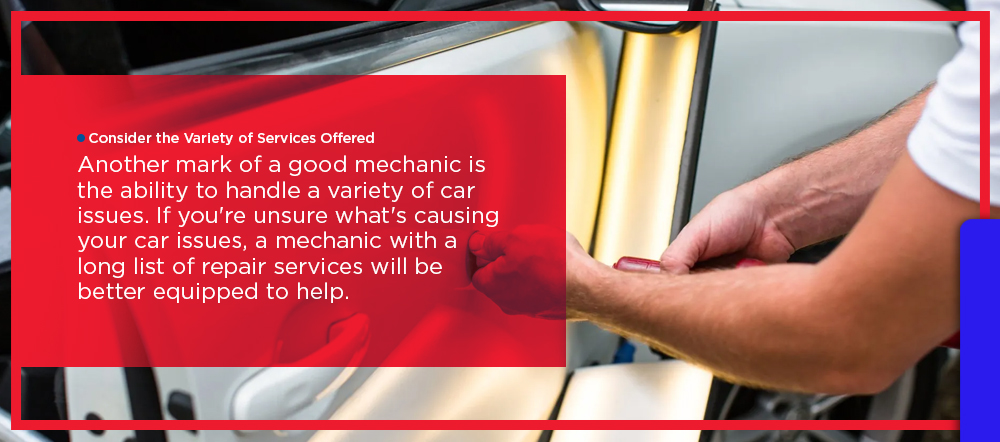 1. Enlist the Help of Others
A trusted repair shop should have plenty of satisfied customers. Start by asking your friends, family and neighbors for recommendations. If someone you know has had a fantastic service from their local mechanic, they can tell you about their experiences. The good thing about asking people you know is that you can get a detailed account of the repair and if it held up.
You should also read customer reviews online. A company's reviews on Google and Yelp can be very telling. You can find patterns about a mechanic shop's trustworthiness and customer satisfaction. Another thing to look for is if the company attempts to resolve negative comments.
Once you have narrowed down your options, consider their Better Business Bureau ratings. The BBB offers an excellent resource for consumers to find trusted reviews and complaints about a business. The BBB uses a letter grade rating system, with the lowest possible score of F and the highest possible score of A+. A top letter grade is a sign that a company is in good standing with the BBB, which includes several marks of a trustworthy business.
Few BBB complaints
Commitment to resolving complaints
Experience in the business
Transparency and honest advertising practices
Proper certifications
If you don't have time to research a repair shop's ratings across several platforms, look for AAA Approved Auto Repair Facilities (AARs). One of the rigorous steps in the AAA approval process includes interviews with past customers about their experiences. Other AAA members can submit surveys after visiting an AAR facility, so AAA is constantly monitoring reviews of our AAR partners.
2. Consider the Variety of Services Offered
Another mark of a good mechanic is the ability to handle a variety of car issues. If you're unsure what's causing your car issues, a mechanic with a long list of repair services will be better equipped to help. The more types of repairs a shop offers, the more familiarity the team has with the inner workings of an engine. Also, if you have an issue with your car you can't identify yourself, there may be several factors at play.
You'll gain more benefits from a longstanding relationship with your repair shop. When you can bring your car to the same place every time, your technician can access a complete record of your past repairs. With time, your mechanic will get to know you and your car, which can help them offer you better services. A repair shop that has a lot of capabilities ensures you can go back for a wide range of issues. Once you find a trusted mechanic with an array of repair services available, you don't have to go through the search process again.
Besides the variety of services offered, you'll want to check what kinds of cars they service. Some repair shops work exclusively on one make, while others have a more general focus. Some may only maintain domestically manufactured vehicles, and others may solely service imported cars. Of course, you'll want a mechanic that services the make and model of the car you own. It's also good to know if a mechanic can maintain a wide range of vehicles. If you have many automobiles in your household or plan on purchasing a new one in the future, you can use the same repair shop.
When evaluating a repair shop, AAA ensures the facility has the right tools to handle engines, electrical systems, brakes, suspensions and heating and air conditioning systems. We make sure our AAR partners have the equipment to complete a wide range of repairs and tune-ups, so you know the facility can meet all of your needs.
3. View Their Facility Beforehand
You can learn a lot about your repair technician by performing a site visit. By starting the search for a mechanic before you need to get work done, you can take the time to check out your options. Start by stopping by the repair shop to pick up a business card and some literature to have on hand for a future repair. While you're there, look for signs of a neat, well-organized facility.
The parking lot should have vehicles equal in value to your car. You might even spot a few that are the same make as your car. You should also look for modern equipment in the garage area. Up-to-date equipment in good condition ensures an efficient repair job. You should also look to see that repair technicians are adhering to proper safety practices, such as using safety goggles and gloves. 
A repair shop with certifications will proudly display them. Look for a Better Business Bureau membership, AAR status and other service awards. Many repair shops will also post signage with their hourly rates, guarantees and payment policies. If there is no sign, the customer service staff should be able to explain these policies to you.
There are a few helpful questions to ask your mechanic before choosing to work with a repair shop.
Do you have experience with my make and model?
Will my repair estimate be free?
What are your labor rates and policies?
Do you have any customers I can speak to for references?
Can you honor my vehicle's warranty?
Every AAR facility passes a thorough in-person inspection every year. With AAA, you don't have to visit a facility before you need repairs, because we know exactly what to look for to make sure the shop is in great condition.
4. Check Their Experience Level
A repair shop with many years in the business is a good sign that they'll be able to help. The longer they've been operating, the more likely it is that they have experience resolving a broader range of issues. It's also vital for the staff at a repair shop to be well-qualified, and that technicians have proper credentials.
Look for an Automotive Service Excellence (ASE) blue seal. An automotive professional with one to three years of experience can earn ASE certification by passing one of the organization's tests. A repair shop can achieve an ASE blue seal if they employ ASE-certified staff. These certifications demonstrate experienced mechanics are working on your vehicle. You can also look for trade school diplomas and other advanced repair certifications.
Before becoming an AAR facility, every repair shop must have a roster of well-qualified technicians who have earned ASE certifications.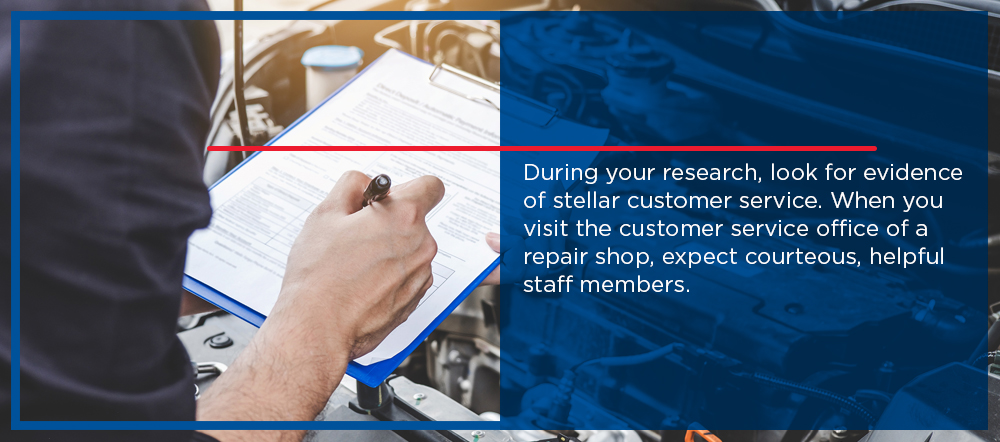 5. Review Their Customer Service
During your research, look for evidence of stellar customer service. When you visit the customer service office of a repair shop, expect courteous, helpful staff members. They should be willing to answer any questions you have for them. Reading some online reviews can give you a window into other customers' experiences with the staff. A fantastic mechanic will have lots of positive comments online. You can find more evidence of a repair shop's commitment to service by how they handle any negative reviews.
Another sign of superior customer service is how mechanics present their recommended services. One turnoff for many customers is a repair shop that tries to make unnecessary repairs. A trustworthy mechanic will be happy to offer you advice and guidance about your vehicle. They may point out other issues related to your car and give you an honest opinion about them. If your mechanic offers you free preventive maintenance tips or recommendations to get more life out of your parts, it's another testament to their knowledge and care.
Repair technicians can also show their commitment to customers by listening to you and asking questions. By working with you one-on-one to diagnose a problem, they can find a solution faster and show you they care about your business. A mechanic might offer to take a test drive with you so you can demonstrate sounds, smells or other issues firsthand. A repair shop that takes the time to follow up with you after an extensive repair is also a sign of quality customer care.
The AAA approval process looks for courteous and reliable service in addition to high-level performance. By speaking to past customers, AAA finds the facilities that put top-quality service first. 
6. Shop Around and Explore Your Options
Another benefit of starting your search early is the ability to shop around. Different repair shops will offer varying labor rates, and might even charge more for the same parts. There's also more to a repair shop than the price they charge. Not all mechanics share the same philosophies about customer service and even about car repair. Those differences can easily shine through after stopping by multiple garages to discuss your car.
One tip is to bring your vehicle in for a minor repair or routine maintenance to give the shop a test drive. See how they handle customer service. For something small, such as an oil change, your mechanic should have you in and out pretty quickly. 
For a small repair, you can see how the mechanic works with you to understand the problem. Do they ask enough questions? Do they push you into more repairs? Do they offer to show you what's wrong with your car, or provide advice on how to prevent it? If your mechanic goes above and beyond on a small issue, you can be confident they'll share that philosophy on a major repair. Once you've seen a range of prices and the quality of service you get at each shop, you can make a better decision. 
Keep in mind that only the best repair shops receive the AAA seal of approval. So, if you don't have time to explore many facilities or cannot test drive a shop with a routine repair, look for an AAR facility.
7. Get Estimates
No two shops will offer the same prices. Before you bring your vehicle in for a major repair, you should make sure to get an estimate for the repairs. In Pennsylvania, the Automotive Industry Trade Practices Regulations guarantees you several rights related to payments.
A repair shop must get your authorization before charging you for repairs.
You have the right to set a dollar limit on the repair, and a mechanic must get your approval before performing any more repairs.
Auto repair providers must disclose any fees for storage or to receive an estimate beforehand.
As a AAA member, you also have some extra protections on price. When you choose an AAR partner, you have the right to a written estimate. The bill will not exceed the amount on the written estimate by more than 10% unless you authorize any other costs. You can also receive a 10% discount on labor when you show your AAA membership card.
When shopping for prices, learn about the pricing models repair shops use. Most shops charge a flat rate for specific services. If you come in to get your brake pads changed, the estimated time for an experienced technician to complete the task might be one hour. They would charge you for that hour, even if the mechanic takes more or less time than that to finish the repair. The hourly rate for labor does not include the cost of parts.
Another shop might charge a fixed price or a "special" for a small service such as an oil change or a brake job. These prices include both the labor and the parts. Note that these specials often have exclusions, so you may have to approve another charge. You might also see a cost for diagnostic services. Many car issues cost more to diagnose than they do to fix, such as electrical work. Often, repair shops will quote you for a diagnostic service that will include several procedures and a time limit.
Knowing how mechanics will charge you for their services can be invaluable as you compare rates. AAA uses data from our AAR facilities to calculate reliable estimates for specific repairs in your area. Use the AAA repair cost estimator to learn about repair costs for your make and model in Central Pennsylvania. You can bring these estimates with you to make sure you get a fair price that fits your budget without shopping around.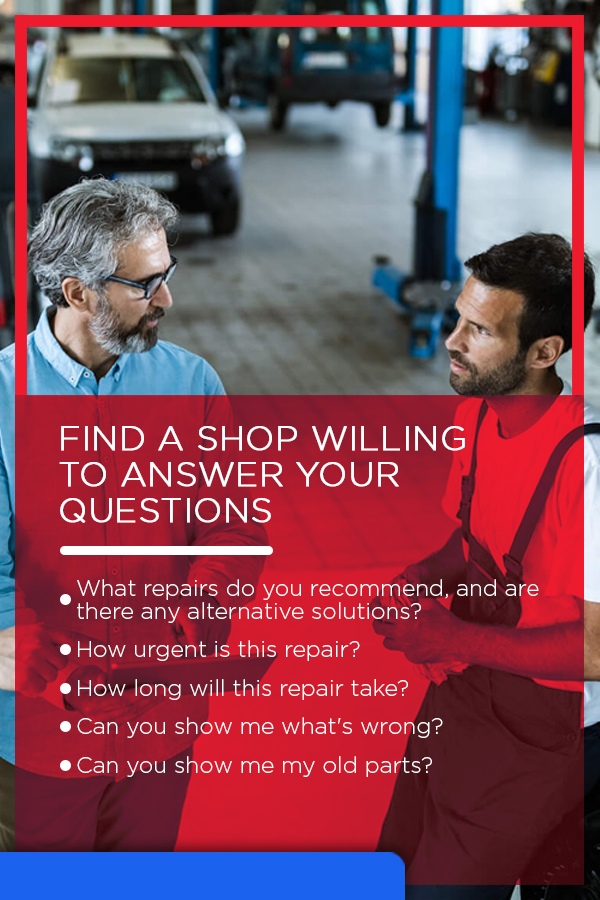 9. Find a Shop Willing to Answer Your Questions
When you have a repair or concern about your car, you may have many questions. An honest, knowledgeable mechanic will take the opportunity to educate you about your vehicle. Your repair technician should want you to have a deeper understanding of the work they're doing. The right repair person will walk you through the entire process, and welcome any questions you have. 
Once you decide to move forward with a repair shop, ask for details about the repair process. The more you understand about the process, the more peace of mind you will have. Your mechanics will appreciate the opportunity to pass on their knowledge, prove their expertise and earn your repeat business.
What repairs do you recommend, and are there any alternative solutions? Your mechanic should give you an idea of what repairs are must-haves, and which are nice-to-haves. Some car troubles may not have alternatives to replacing a worn-out part. Still, you can often save on costs by requesting used or third-party components.
How urgent is this repair? You'll need to have some repairs taken care of right away. Others can wait a few months. Asking this question can also help you understand if the repairs are necessary. It's crucial to find out, especially if your repair technician points out more problems than the one you went in for. You can use this information to budget yourself for future repairs.
How long will this repair take? Pennsylvania law requires mechanics to complete repairs within the time specified or within 24 hours. Discussing the timeline can help you schedule your pickup. 
Can you show me what's wrong? When a mechanic is willing to take you under the hood, you can have confidence they know what they are doing. If a mechanic suggests more repairs than the one you went in for, ask them to show you the issue so you can understand the problem for yourself. 
Can you show me my old parts? Your AAA membership entitles you to have replaced parts returned to you. Your old parts are evidence a repair took place. They are also evidence that a replacement was necessary in the first place.
At AAA, we look for knowledgeable and courteous technicians from our AAR partners. They have the expertise to know what's wrong, and the communication skills to listen to your concerns and walk you through the repair process.
8. Examine Their Credentials
Before settling on a repair shop, take a closer look at their credentials. The mechanic should have up-to-date licenses and legal documents that qualify them to perform maintenance and repairs. A mechanic should have a valid business license, as well as a retail license to buy and resell auto parts.
Consider looking at a repair shop's other certifications, too. An AAR facility is one of the best signs of a competent repair shop. We examine all the business licenses and other credentials for you. While most mechanics' credentials certify technicians, AAA certifies the facility itself. At AAA, we hold our repair shops to a high standard of repair practices and reevaluate our repair shops each year. We also survey AAA members so we can continue providing the best repair service in the industry.
All our repair shops employ highly qualified mechanics who have earned ASE certifications. Every AAR is a full-service facility, with all the proper tools and equipment to perform many repairs. We speak to past customers about their experiences before approving a facility and track our repair shops continuously.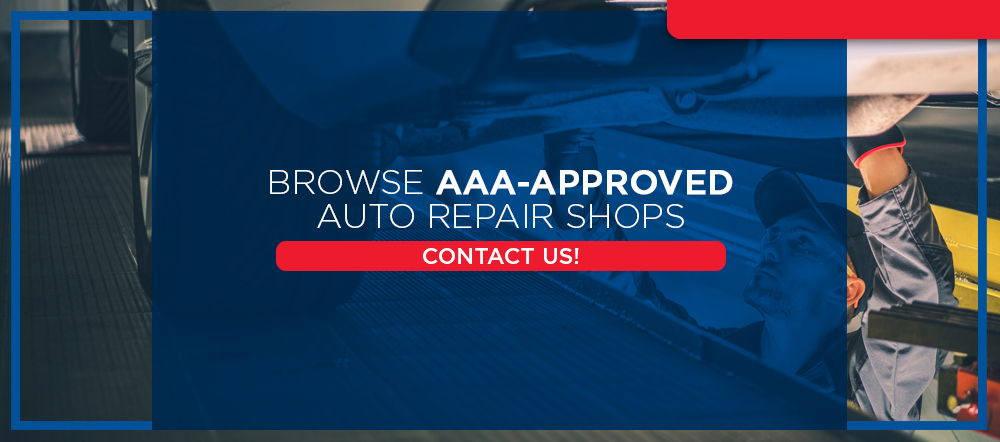 Browse AAA Approved Auto Repair Shops
The best way to find reliable mechanics near you in Central Pennsylvania is to look for AAA Approved Auto Repair centers. We have carefully selected AARs that have epitomized excellence in every category. When you don't have time for a lengthy research process, you can trust that AAA has evaluated our AAR partners using the same rigorous standards you would use yourself. Using our repair shop tool, you can discover AAA approved auto repair and auto body shops in your city or county. You'll be able to view a facility's address, hours of operation, their complete list of repair services and information about the cars they service. Also, you can find a list of certifications.
When you choose an AAR facility, you will get the best care for you and your car. As a AAA member, you can also access exclusive discounts and AAA priority service. You'll get a free inspection with any purchase. If any dispute arises between you and the AAR shop, AAA will investigate the issue on your behalf. You can also take advantage of ensured quality repairs, with a warranty guaranteed for 24,000 miles or 24 months. Take the guesswork out of choosing a car repair service with a AAA Approved Auto Repair Shop.