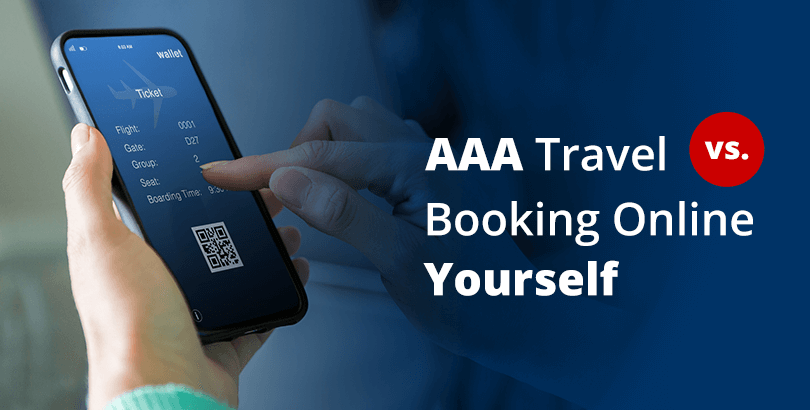 AAA Travel vs. Booking Online Yourself
One of the incredible benefits of the internet is the access it gives us to numerous websites where we can plan and book the vacation we want. But just because we can do something doesn't mean we know how to do it better than the professionals. Planning for travel requires expertise, which is why it's often more beneficial to book with a travel agent, rather than on your own online. So, what are the benefits of booking with a travel agent? We're glad you asked.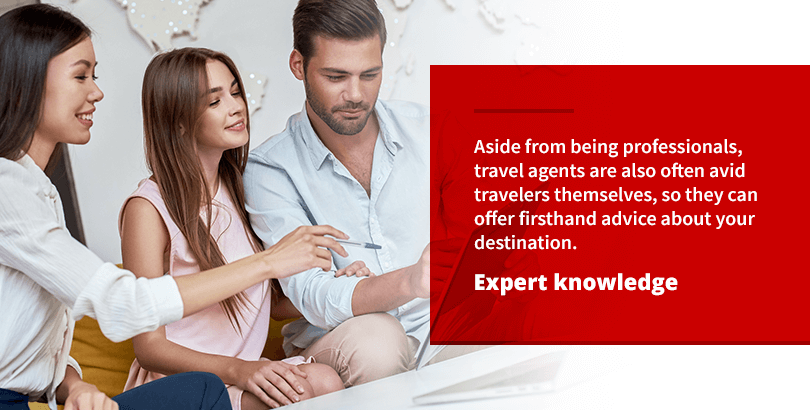 Pros and Cons of Using a Travel Agent
There are undoubtedly benefits to booking your vacation online yourself, including convenience and cost savings. But what if we told you that you could save even more in the long run by relying on a travel agent? When it comes to using a travel agent vs. booking online, you may be surprised to learn travel agents have broader access to deals and discounts than you can find if you did DIY vacation planning. 
Check out the video below and learn more about the experience, expertise and team working to make your trip memorable when you choose AAA. 
Here are some other advantages of booking with a travel agent instead of online.
Save time: Research shows that people who book trips themselves using online booking sites tend to spend upwards of 30 hours researching before making a reservation. They also tend to spread this time over several weeks, often making the time spent looking into their vacation much longer than the getaway itself. That cuts into the free time you should spend relaxing instead of staring at a computer. Travel agents don't need to invest that much time on research, since finding deals and planning vacations is their job and they're pros at it. Whereas the average person takes weeks to arrange everything, a travel agent can do it in days or even hours, leaving you with only the job of enjoying the vacation.
Get deals: It's not difficult to compare prices on flights or hotels, and you may even score an excellent discount on a vacation package via an online booking site. But no matter how great the deal you find yourself is, a travel agent will likely be able to find you something better — mostly because travel agents get access to unique bargains that aren't available to the public. They can even find you discounts on tourist sites and other vacation activities.
Save money: Contrary to popular belief, using a travel agent doesn't necessarily mean you'll have to pay more for your vacation. Instead, you may find yourself spending less overall, since travel agents won't surprise you with hidden costs and will also provide insurance and advocacy to help you get your money back if you need to cancel your trip. On top of that, thanks to their insider knowledge and connections, travel agents can find you better deals on airfare, saving you hundreds of dollars, which means the most cost-effective options and short or no layovers. Plus, if there's an emergency that forces you to cancel or postpone your trip, your travel agent can help you reschedule without charging you extra.
Low stress: Ensuring all your documents are up to date is one stressful part of travel that you can leave to a professional travel agent to handle. They'll alert you if you need to update your documentation — including if you need a visa for your destination — and will let you know of any religious or cultural regulations for your destination, which you may not find listed on online booking sites.
Expert knowledge: Aside from being professionals, travel agents are also often avid travelers themselves, so they can offer firsthand advice about your destination — such as personal recommendations for dining and shopping — and they might be able to set you up with connections in various cities, such as local tour guides. If you're planning a trip to a new city, you can forgo all the extensive research regarding the safest areas to visit, the best sites to see and even how long to stay to get the full experience because your travel agent will be able to answer all that and more for you in one go.
Still wondering, "Should I use a travel agent, or book it myself?" The primary reason to book online is if you're planning a short trip, especially to a place you've visited many times before, or if you're keen on experiencing a student backpacker's way of traveling. Alternately, if you have the time and energy and even enjoy the nitty-gritty of planning a big vacation, by all means, do it yourself. However, remember travel agents will have insider access to discounts and information that you, as an average person, will not, so it may still be smart to communicate with an agent and take advantage of their years of experience.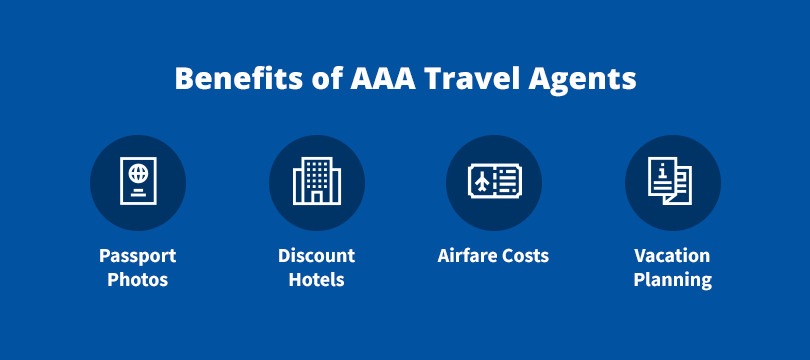 Benefits of AAA Travel Agents
While there are inherent benefits of travel agents, not all travel agencies are the same. For instance, many people don't know that AAA offers travel benefits for everyone and additional perks for AAA members. AAA travel agents have their finger on the pulse of the industry and provide professional experience, as well as unique benefits that are only available to AAA members.
Passport photos: Did you know both members and nonmembers can get passport photos at local AAA offices? You can also pick up application forms there, making the passport renewal or application process a little less hectic for you.
Discount hotels: When searching for deals on hotel stays, you can enter your AAA member number to score discounts that won't be visible to nonmembers.
Airfare costs: Similarly, booking your flight with AAA travel agents allows you to save on paying to use third-party sites, while also taking advantage of discounts and upgrades not available to the public.
Vacation planning: The most significant perk of becoming a AAA member is getting access to professional travel agents who can take the stress out of planning a vacation, especially for large groups and families. Avoid sifting through hundreds of sites trying to find the best deal and let a pro do it for you in a fraction of the time — and provide better discounts than you'd find on your own. Plus, members get access to exclusive maps and guidebooks for a range of destinations to help you get the most out of your vacation.
Travel emergencies: One of the most significant benefits of travel agents, in general, is the fact that they'll advocate for you in the event of an emergency. Whether it's a flight cancellation, a natural disaster at your destination or a family emergency that forces you to cut your trip short, your travel agent will be able to support you throughout. They'll help guide you through the details to ensure you don't lose thousands of dollars over circumstances beyond your control.
No cost: The expertise and services of AAA travel agents are free for AAA members. So, there's no additional cost to take advantage of travel agents and the host of benefits and perks they can provide you, making it the wiser choice to book with a travel agent than by yourself.
On top of all that, AAA members continue to have access to AAA's signature roadside assistance, plus discounts on rental cars and admission to various theme parks. 
Book Your Next Vacation With AAA Travel
Spend less time planning your vacation and more time looking forward to it by taking advantage of AAA travel agents and the benefits of being a AAA member. Whether you're planning a family vacation to Disneyland or a solo weekend getaway, AAA Travel is available to help take the stress out of vacation planning, so you can truly enjoy your trip. Plus, with your existing AAA membership benefits, you'll have peace of mind no matter where you are.
Browse our vacation packages or talk to a travel agent to start planning your holiday today.