Vacations are great, there's no denying that — but planning a vacation can be a headache, especially when you're planning for your whole family. Many think finding budget-friendly family vacations is an impossible task, but there are many tips and tools available to help get the vacation you and your family deserve.
Your AAA Membership can help you plan your family vacation and even provide you with unique discounts and rewards. In this guide, we'll discuss the steps for planning a vacation and how AAA can give you some peace of mind while you travel.
How to Plan a Vacation
Whether you're planning mother-daughter trips on a budget, brainstorming spring break ideas for families on a budget or wondering how to plan a trip with friends, the easiest way to tackle a big task is to break it down into smaller tasks. AAA offers travel guides and tips with each membership, but there are ways you can get started yourself.

1. Decide on a Budget
Money is likely the most crucial factor when it comes to traveling, so establishing a budget ahead of time helps you organize your finances and decide how much is reasonable for you to spend on a vacation. The best family vacations don't have to cost you a fortune. 
Figure out how much you're able to spend and then decide how much you're willing to spend on a single vacation. There is no right amount to spend on a budget, so long as the amount you decide on is affordable to you. Consider what you and your family will likely do on a vacation and what you can live without. Divide the sum into categories like food, accommodations and transportation.
You can even use a vacation trip planner or a specific budgeting tool to help you organize your budget and what you should be taking into account when deciding how much to spend. Certain trip-planning websites may also be able to provide package deals you can take advantage of.

2. Start Saving Money
Possibly the hardest part of planning a vacation is actually saving for it. Saving usually means cutting down on certain spending and putting away more money than usual, but instead of looking at it as a chore, try looking at it as the means to ensuring you have one of the best family vacations possible. 
Find ways to motivate yourself by leaving reminders of your upcoming vacation around your home or office to encourage you to keep saving. Cut down on unnecessary spendings, like buying lunch or going out to the movies. Instead, find low-cost alternatives, like packing your own lunch or having a movie night at home. 
Even the most budget-friendly vacations require a fair amount of saving, but saving doesn't have to mean depriving yourself of all fun things. Just finding cheaper alternatives and putting away the difference can add up. Automate your paycheck, so a percentage goes into a savings account specifically for your vacation, and consider using a high-interest savings account for more benefits. 
3. Choose a Location
Now that you've figured out how much you're able and willing to spend, it's time to decide where you'll spend it. Choosing where to go on vacation can be overwhelming since you have the whole world to explore, but having a specific budget will help narrow down your choices. If you're traveling with a family, your choices will likely be even narrower since it may be difficult to pick on a destination that everyone agrees on. 
Talk to friends and family to hear about their recent travels and where they do and don't recommend visiting or turn to social media to get inspiration from seasoned travelers. Discuss possible destinations as a family and see which ones are more popular and within your budget. Are there friends or family you've not seen in a while? A vacation can be a great way to catch up with them while exploring a new city.
When deciding on a location, you also need to consider what additional costs you may incur, such as visa fees and costs of vaccinations. And if there are local sights or attractions you want to explore, consider whether their cost is within your budget. Discounts, rewards and coupons from credit cards or your AAA membership come in especially handy here. Or, you can take advantage of the expertise of travel agents to help you decide where to go.
4. Pick a Time to Go
When it comes to planning a vacation, timing is often non-negotiable. Some people can take vacation time off whenever they want while others are bound to a schedule, like teachers, for example. Figure out when it's the best time for you to be away from work and home, but also consider which times of the year are likely to be peak or off-peak travel seasons.
Flights and accommodations are often more expensive during high-travel seasons, like summer holidays or Christmas. Meanwhile, even during peak travel times, leaving in the middle of the week tends to be cheaper than leaving at the start or end of a weekend. 
If you have unused vacation days, this is an ideal time to use them. Studies show that Americans end up losing about 222 million vacation days every year simply because they don't take them — that's lost time and money that's not being taken advantage of. Combining vacation days with off-peak travel — meaning times when tourists aren't flocking to tourist destinations — can save you a ton of money. 
Travel agents also come in handy when deciding when to go since they'll be able to recommend the best time to travel and maybe even provide you with the best deal for the days you travel.

5. Request Time Off From Work
Once you know when you want to head off on your vacation, it's time to request the time off from your job. Remember to not confirm any travel plans — you don't want to end up losing money on a non-refundable flight because your time-off request was denied. 
Depending on what your job is and the rules around booking time off, you may need to consider how far in advance you should put in your time-off request. Earlier is always better, so your superiors have time to find someone to cover you while you're away. 
It's even better if you can help do this for them, making it one less thing for them to worry about. They may even be more likely to grant you the time off if they know everything will be handled and under control while you're away. 
6. Decide on Transportation
When you plan your vacation and decide where you want to go, you should probably give some thought to how you'll get there. Distance, time and budget all have to be considered when you choose the best mode of transportation, especially when traveling with your family. Are you crunched for time or for money? If so, it may be better to drive or take a bus rather than fly.
And what about when you arrive at your destination? You'll need to figure out if you'll be using public transportation, renting a car or relying on taxis and rideshares. The cost of your transportation should be included in your budget as well, especially if you plan to rent cars. You'll need to consider insurance that will cover you in a different city or country as well as emergency plans in case you get stranded on a strange road.
Also, consider the comfort and well-being of your family. Does someone in your family tend to get carsick for extended rides, or does someone have a fear of flying? Remember that this is everyone's vacation, so no one should be uncomfortable. 

7. Find Accommodations
Thanks to the internet, there are more options than ever when it comes to finding a place to stay during a vacation. From online booking sites that find you the best deals to home shares, it's easier than ever to find accommodations that suit your budget and lifestyle. Browse several options and try not to be too strict with your requirements.
Consider how much time you'll actually be spending in your accommodations. If you'll only be using them to shower and sleep, then you may want to opt for a low-budget hostel or motel. If you want to really luxuriate and sleep in, look into deals for hotels with the works. And don't let outdated stereotypes cloud your decision. Motels aren't all sleazy and dirty like movies and TV shows claim, and hostels aren't just for student backpackers. Many hostels offer private rooms with private or shared bathrooms as well as complimentary breakfasts.
If you're traveling to visit friends and family, see if you can stay with them for some or all of your visit. That way, you'll get to spend more time together while saving on accommodation fees.
When using a travel agent, inform them of your plans, and they'll be able to find you deals or vacation packages that combine hotels and airfare, thus saving you money.
8. Notify the Bank of Your Travel Plans
The last thing you want when you're trying to enjoy yourself on vacation is to find out your credit card has been declined. That may happen if you fail to alert the bank and credit card companies of your travel plans. When credit card companies or banks notice unusual transactions on your account -- especially transactions in a city that you don't live in -- they may block the cards for your own security. 
While this caution is for your own well-being, it can turn into a mortifying and frustrating ordeal, so it's always best to inform your bank and credit card companies of your travel plans. Let them know where you're going and for how long so any transactions you make on vacation aren't flagged as suspicious.
Enjoy Your Vacation!
You've budgeted, saved and you've made it to your vacation. Now it's time to enjoy the fruits of your labor without worries.

Benefits of Using a Travel Agent
Planning a memorable vacation is no easy task, and not everyone has the time to do it. That's where travel agents come in handy. Travels agents practically live and breathe travel and know the ins and outs of the industry -- and they're willing to let you in on some of those secrets if you ask. Some of the benefits of using a travel agent are:
1. Get Professional Service
Travel agents are professionals, and like all professionals, they can do the job better than an amateur. They'll be able to alert you to any immigration requirements for your destination and their costs. They'll be the ones who help you sort out the logistics of your dream vacation while also ensuring you stay within your budget. Plus, it's part of a travel agent's job to keep their finger on the pulse of the world, so they'll be able to tell you which places are the best to visit at what time -- and which aren't.
2. Save Time and Avoid Stress
Working full-time while managing a household is time-consuming — not to mention extremely stressful. Instead of adding to that stress by planning your own vacation, seek out a travel agent to do what they do best. They provide an additional sense of security since they are real, knowledgeable people making trustworthy recommendations. That human element can be the difference between a memorable vacation and a vacation that has gone wrong.
3. Get a Bigger Bang for Your Buck
Knowing industry secrets also comes with perks, like industry discounts. Travel agents often receive promotions that aren't available to the general public, and these promotions can greatly benefit clients who seek the expertise of travel agents. If the agent can't save you any money, you can bet that they'll be able to give you more for your money. Even with the agent's fee, you'll likely be able to stretch your dollar much farther with a travel agent than without. 
Plus, the more you travel using an agent, the more likely you are to be qualified for unique benefits afforded only to loyal customers.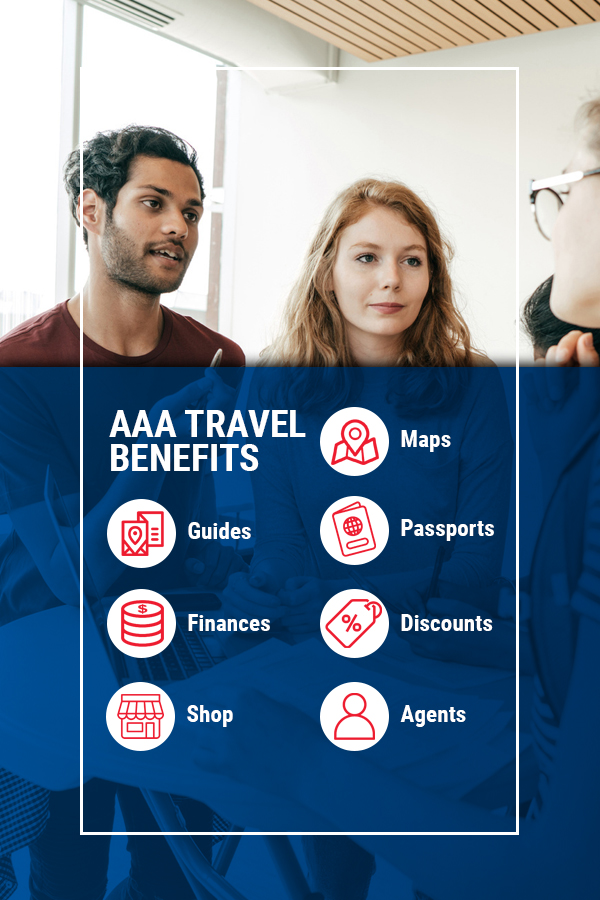 AAA Travel Benefits
One of the best ways to plan a trip is with a AAA Membership. When you're a AAA member, you get a wide variety of perks, including:
Maps: It's always good to have some idea of the route you plan to take if you're driving to a location or even just going on a fun road trip with friends. AAA offers over 400 digital maps that are up to date and can be used while you travel. Memberships also give clients access to TripTiks, which shows you the best way to get from point A to point B.
Guides: Instead of carrying around clunky tour books that increase the weight of your luggage, AAA provides travel guides with thorough and up to date information about your destination, including climate, events and local resources.
Passports: Need to renew your passport? AAA Passport Services will direct you to the appropriate forms online and help ensure you send the forms to the right place. Plus, members get discounts on passport photos, as well.
Finances: From credit cards to travel cards, AAA offers a range of financial services to make the most of your money while keeping it safe.
Discounts: Take advantage of AAA's discounts and coupons for popular theme parks and attractions in the country for some of the most memorable family vacations on a budget. Or check out discounts for local attractions to help you better plan your family vacation.
Shop: Need to replace your luggage or pick up some last-minute items for a long road trip? AAA's Travel Store has everything you need at discounted prices.
Agents: Just say, "plan my vacation!" and the AAA Travel Agents will. They'll also help you save stress, time and money, allowing you to really enjoy your holiday.
In addition to those, AAA offers even more benefits that will help you plan your vacation, like:
AAA Travel Insurance
Often overlooked, travel insurance is the best vacation traveling tips and an excellent way to have peace of mind during vacations, especially if you're traveling overseas. If you suddenly lose your source of income or fall ill and are unable to travel, insurance may help you keep from losing the money you spent. 
Certain AAA locations offer travel insurance for members, which are based on region and often include trip interruption and cancellations.
Car Rentals
AAA Members save on car rentals as well as car insurance, making it easier for you to travel even in cities that aren't your hometown. Partnered with Hertz, AAA also offers additional coupons and savings for its members, including 20% off rentals, free unlimited mileage and free booster seats for infants.

Travel Money
With AAA, members can order foreign currency online from more than 70 countries or order it in person from over 90 countries. There's no fee for transactions over $200, and you can also get tips and advice about the currency of the country you're planning to visit. If you're not going overseas, AAA also offers prepaid cards that you can buy to take along with you on vacation. Prepaid cards, like the AAA Visa gift card or the AAA MemberPay Visa prepaid card, are a great way to make a budget and stick with it.
Members can also consider the AAA TipPaks, which allows a small, prepackaged amount for members who may not be staying in a foreign city too long. It's a great way to briefly explore a city without overspending.
Identity Protection
Whether you plan a vacation for yourself alone or for your whole family, identity theft is a legitimate fear when traveling. Unfamiliar ATMs and points of sale make you prone to identity theft, and dealing with that during a vacation is the last thing anyone wants.
AAA works to ensure the identities of members remain safe and secure. All AAA financial services come with comprehensive identity theft monitoring, so you will be notified straight away if there's any suspicious activity on your prepaid cards. The most basic AAA membership also provides lost wallet protection and fraud resolution support, while higher levels of membership provide added perks.
Start Planning Your Next Vacation With AAA Central Penn
Planning a vacation doesn't need to be a stressful, time-consuming ordeal as long as you recognize what you can and cannot do and from where to seek help. Whether you're planning for yourself or for a large group, the best way to plan a trip is by taking advantage of the benefits afforded by the AAA Membership. Take off some of the burdens of vacation planning by letting AAA Central Penn help you out with vacation packages, travel agents, travel resources, currency exchange and much more.
Visit AAA.com to learn more about the perks of the AAA Membership or to book your trip with AAA Travel today.