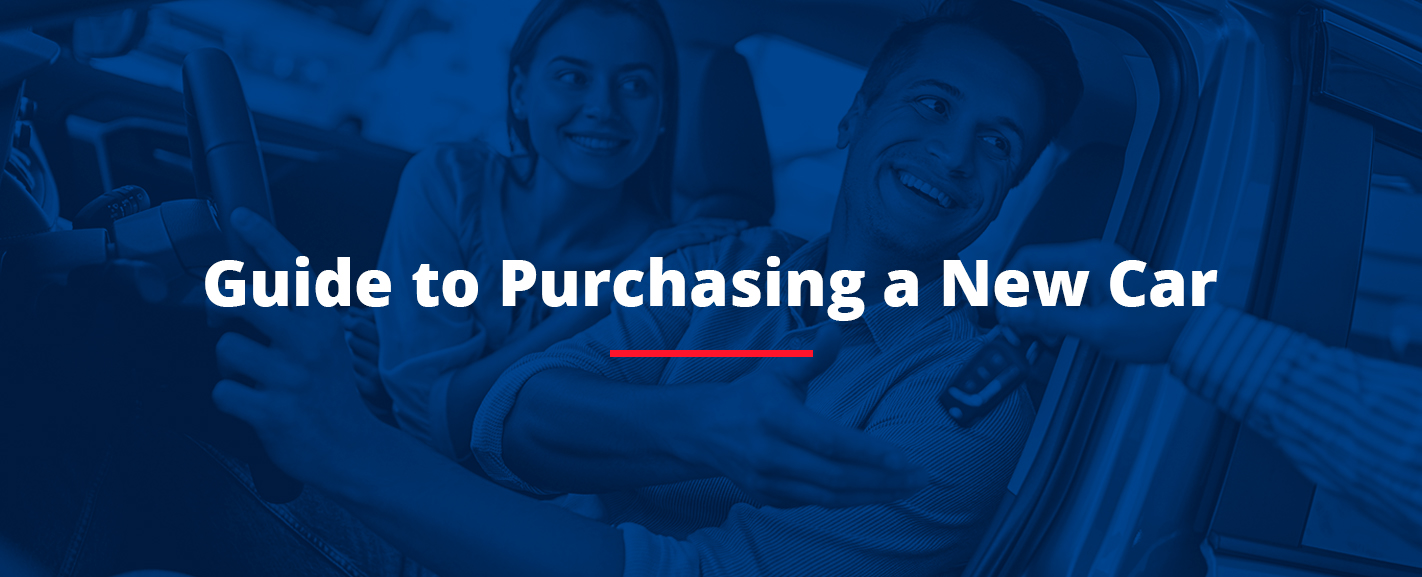 Buying a new car is an exciting experience, but it can be a little overwhelming if you don't know where to start. You want to find a car that's going to meet your needs and that you're going to love to drive. You don't want to end up paying more than you should or purchasing a car that turns out to be missing key features.
To get the best deal and the right car, you need to turn to car purchase advice that can help you make the best decision possible. In this guide, we'll discuss the steps you should take when purchasing a car and key information buyers need to know to make an informed purchase.
How to Buy a New Car 
Any guide to buying a car needs to provide you with a step by step approach to purchasing a car and getting the best deal possible. Consider following these steps whenever you go to purchase your next vehicle: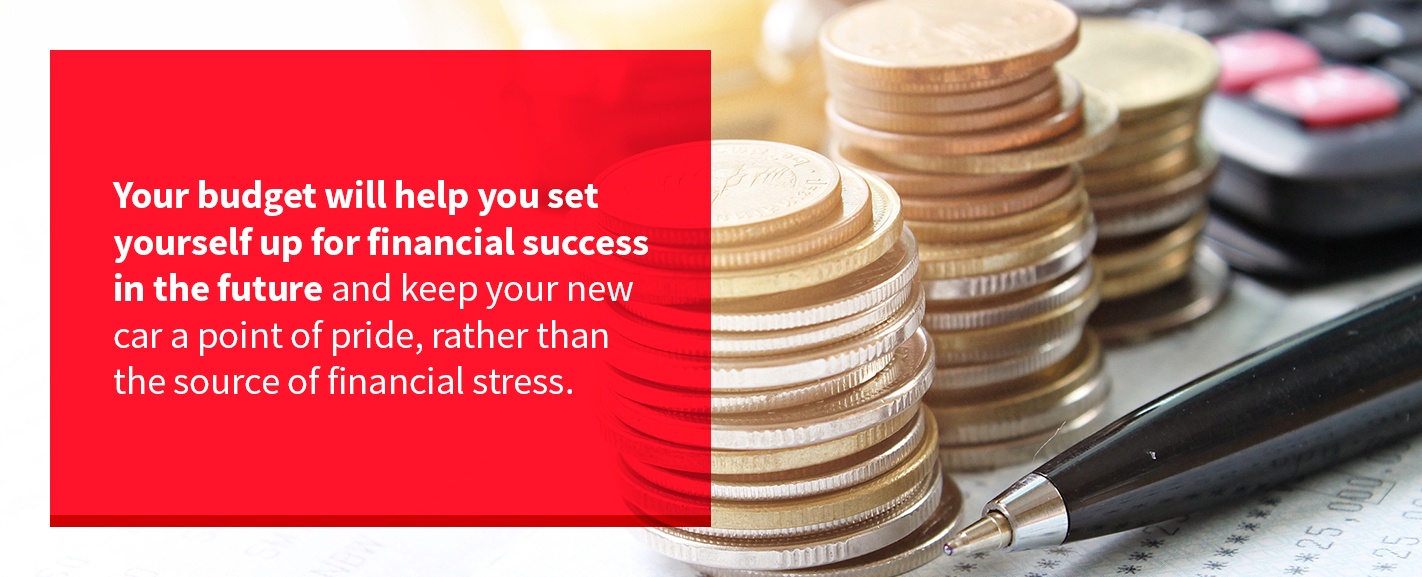 1. Set Your Budget
You can end up spending out of your means if you go into the car buying process without a budget. Your budget will help you set yourself up for financial success in the future and keep your new car a point of pride, rather than the source of financial stress. A budget can also help you decide how you're going to pay for your car. You can pay for the vehicle in cash, lease it or take out a loan.
Paying in cash outright is the simplest option, as you'll only have to worry about making a one-time payment. Leases, loans or other payment plans will need to be factored into monthly budgets to ensure you don't raise your expenses too high. No matter what option you go with, you should take into account costs like insurance, registration and sales tax.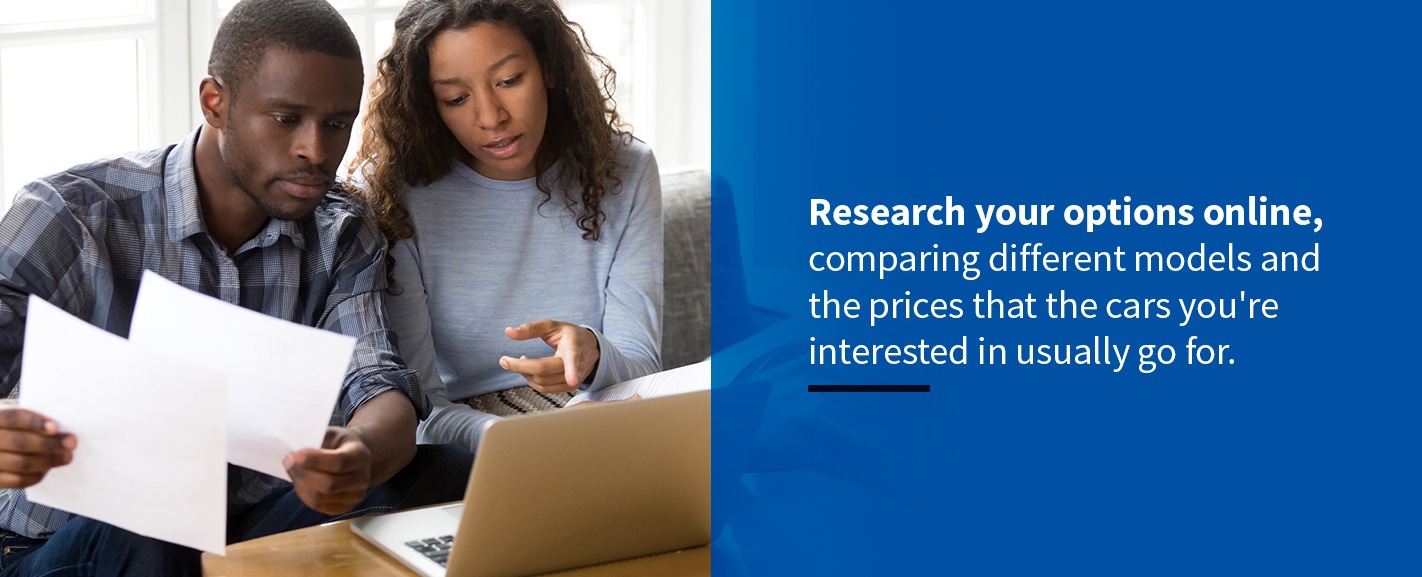 2. Do Research on Vehicles in Your Price Range
After you've set your budget, your next step is to find the vehicle that's right for you. To narrow down your options, start by deciding what you hope to do with the car. For example, if you're trying to buy a family vehicle, you may want to go with a sedan or van. Or, if you'll need to drive over rough terrain frequently, you may want to consider the benefits of purchasing a car with all-wheel drive versus 4-wheel drive.
Research your options online, comparing different models and the prices that the cars you're interested in usually go for. You might also check owner reviews to see what drivers think of the car you're interested in.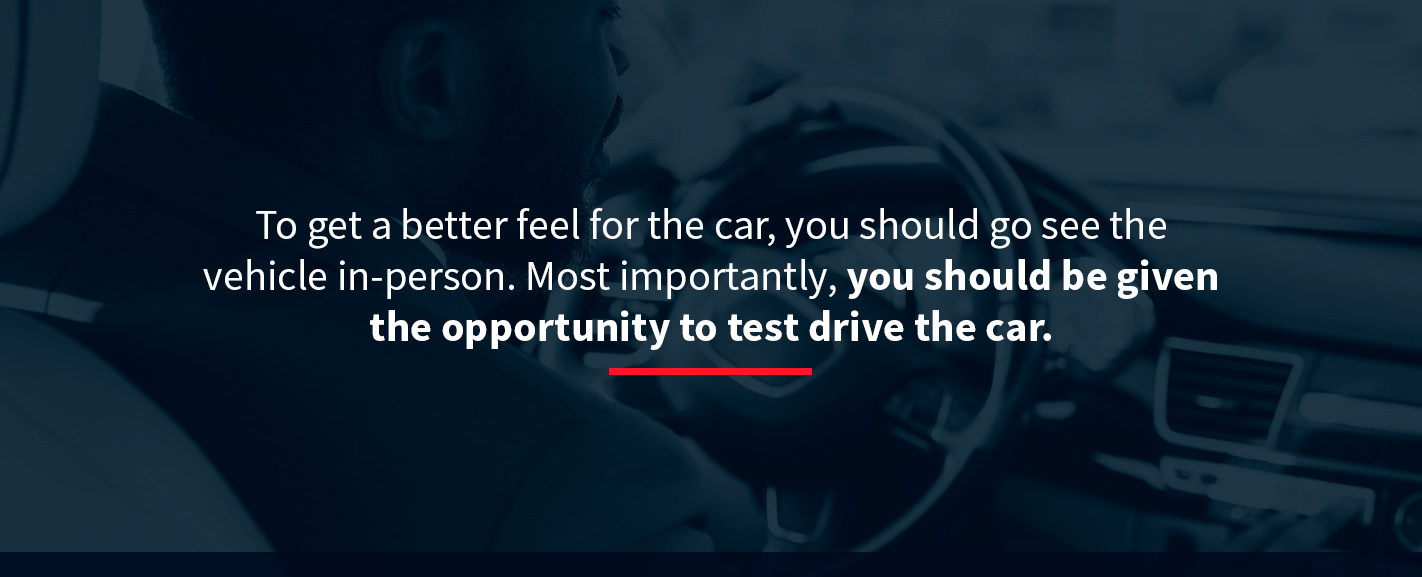 3. Test Drive Cars You're Interested In
Once you've done your research, you'll likely have a few top options you're interested in buying. To get a better feel for the car, you should go see the vehicle in-person. Most importantly, you should be given the opportunity to test drive the car.
In a test drive, you can get a feel for the car and how it handles. You can also try out some of the car's features and controls to see if they add any value compared to the competition. It's best to try to test drive the vehicles you're interested in at around the same time to be able to most accurately compare the driving experiences. 
Try to set aside a morning or afternoon to conduct all of the test drives, so you have a clear idea of how all the cars handle in comparison to one another. To ensure you can fit all of the cars into a day, you should try to schedule appointments beforehand with the dealership or seller. 
4. Find Out Who's Selling Your Car
Now that you've test driven your cars, you should be able to choose which one you want to buy. With your choice in mind, you should then sort through the dealerships and sellers in your area that are selling the vehicle. If you've gotten a test drive from a dealership, don't feel obligated to purchase the vehicle from them. While the dealership might have the best deal, you should still shop around to see if there are any better prices.
Either online, in-person or over the phone, ensure a dealership has the car you're hoping to buy and that it comes in the right color. Most dealerships should have their entire inventory online, so it should be easy to check whether or not they have the vehicle in stock. 
Besides dealership websites, you can usually find new cars listed on websites like CarGurus or Autotrader. Sellers will often list their cars on these sites, so they can be a good resource. Additionally, you might go to the vehicle manufacturer's website to help you search a wider area than just the dealerships around you if you're having trouble finding the car for you.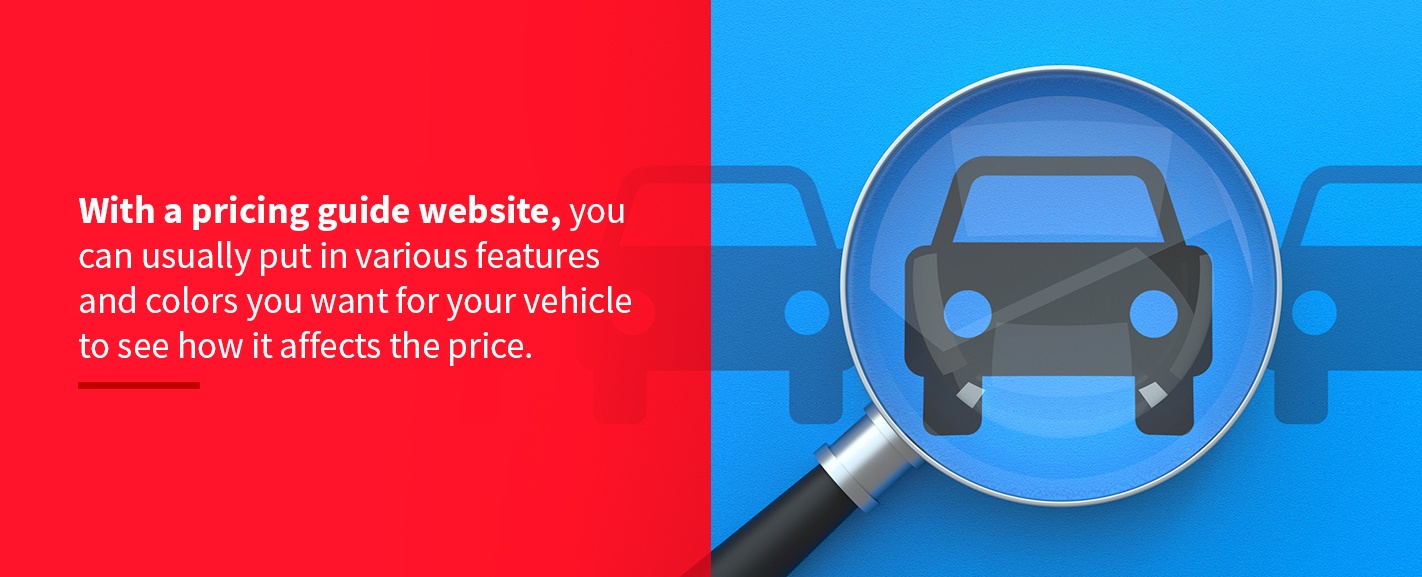 5. Get the Best Price Possible
Don't overpay for a vehicle. Go into the buying process fully informed and ready to purchase your new car at the lowest price possible. Your first stop should be to go to pricing guides to find out what the industry consensus is on the value of the vehicle you're looking to buy. 
A site like Kelley Blue Book can provide you with information on the value of your car and the price people around you are paying for the car. With a pricing guide website, you can usually put in various features and colors you want for your vehicle to see how it affects the price. 
As you do your research, it's smart to look for rebates and incentives that might not be immediately obvious to buyers. The manufacturer website will usually list these current offers on their website, and individual dealerships may provide their own deals as well.
So, how do you get a quote for your car? As you compare different prices, you can go a step further by asking for a dealer's quote on the vehicle you're interested in. You can often get a quote via email, allowing you to get the most accurate version of their pricing and avoid feeling pressured to purchase the car immediately, as you would if you had requested the quote in-person. Simply reach out to the dealership with information about the car you want, and they should be happy to provide you with a quote.
After you get quotes from multiple dealerships, compare each of them to see which is best for your circumstances. Besides the base price, you may also look at any extra services or warranties the dealership provides. They may even offer a prepaid maintenance plan or paint protection, so it's important to take these extra factors into account to calculate your overall costs. With all this information, you should be ready to start drawing up the contract with your chosen dealer.
6. Review Your Deal and the Dealer Financing Options
Once you've agreed on the quote the dealer provides you, review every part of the deal to make sure everything stays in line with the price and fees they initially quoted you. If everything looks right and you've double-checked the paperwork, go ahead and sign the contract. You can often complete the paperwork online, but you may want to do it in person at the dealership. 
If you're planning on getting a pre-approved loan, the dealership's finance manager may attempt to beat the loan's terms with their own financing options. It's not a bad idea to give them a shot to see if they can offer an improved interest rate. 
Besides the cost of purchasing the car, expect to also pay registration fees, documentation fees and your state sales tax. Dealerships are allowed to charge buyers for filing the contract via documentation fees. Always know the details of these fees before you sign on the dotted line. If a salesperson can't give you a good explanation for a fee, ask them to remove it before you sign.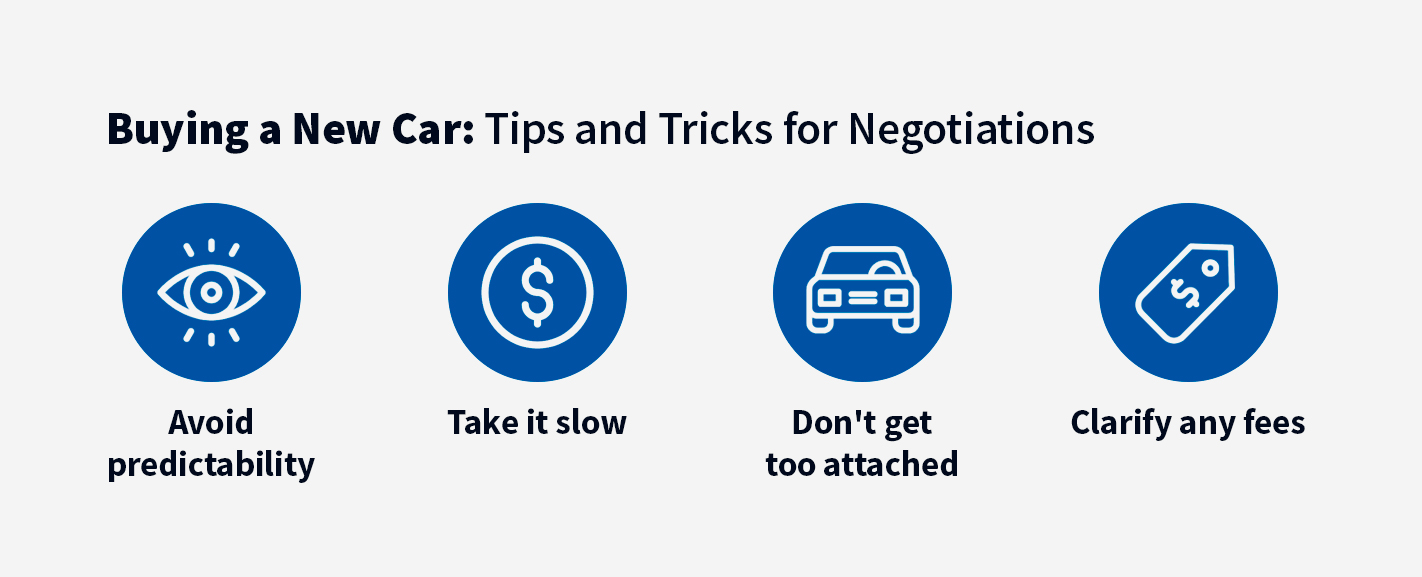 Buying a New Car: Tips and Tricks for Negotiations
If you decide to negotiate in person at a car lot, you should come armed with various strategies to get the price as low as possible. Try to implement some of the following tips:
Avoid predictability: You don't want the salesperson to feel like they're in control of the negotiations. In a meeting, when they go off to talk to their boss or make some other excuse to leave you in their office alone, don't stay there. Keep them on their toes by looking around their lot or showroom, or even simply get a cup of coffee or a complimentary snack.
Take it slow: A negotiation can get out of hand quickly if the salesperson is speaking quickly and throwing numbers at you. Slow down the negotiation by making them repeat numbers, as well as taking the time to jot down any of the prices they give you. Also, make sure to clarify whether their offers include any fees and taxes or if they're just giving you the price of the vehicle alone.
Don't get too attached: If you're overly focused on buying the car that day, you're going to be more likely to pay more than you want. The salesperson may not be budging on their offer, or they may not appear entirely trustworthy to you. Instead of forcing a deal, be okay with walking out. This might even get them to lower the price for you sometimes, but even if they don't, it'll save you from a bad deal.
Clarify any fees: When a dealership negotiates, they will sometimes try to recoup the money they lost negotiating by adding fees you may not have been aware of. Before you say yes to a contract, ensure you get them to clarify any fees that you don't understand or weren't present in the initial negotiation.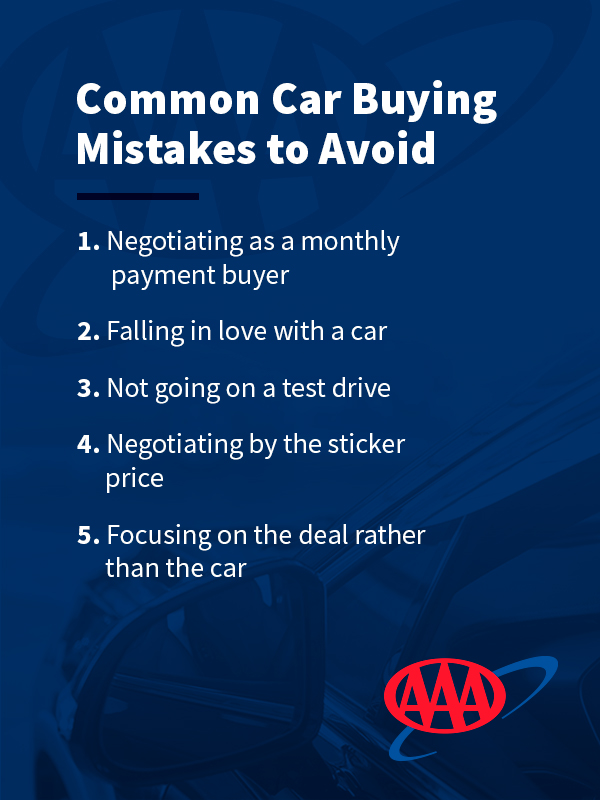 Common Car Buying Mistakes to Avoid
As you search for a car, there are a few common mistakes you should make sure you avoid to get the best deal and car possible for your needs:
Negotiating as a monthly payment buyer: When you go to purchase a vehicle, try not to be a monthly payment buyer, as it will likely cause your costs to go up. If you have the cash or have a pre-approved loan to purchase the car outright, you can use it to your advantage to drop the car's costs. A dealer will likely be much happier with giving you a lower price for a car they know they'll get all their money for that day, versus taking the risk of monthly payments. 
Falling in love with a car: People often fall in love with a model of a car, leading them to make an emotional purchasing decision rather than a rational one. As you search for a car, avoid overpaying or getting locked into a harmful deal by keeping your options open. Focus on your needs as a buyer and have a few different cars in mind as you begin the negotiating process. 
Not going on a test drive: You can learn a lot by reading reviews and information about a car online, but nothing beats driving the car yourself. By driving it, you can ensure it's the right car for your needs and it handles appropriately. You may discover something you wouldn't have noticed otherwise, so it's crucial you get behind the wheel before you buy.
Negotiating by the sticker price: Don't take a dealership's sticker price to be the baseline you're operating on when purchasing the car. If you do this, they can trick you by knocking a few hundred dollars off and making you think you're getting a great deal. In reality, they may still be up-selling you. One great negotiating tactic is to find out how much the dealer paid for the car and start negotiations around that amount.
Focusing on the deal rather than the car: While you search for a car to buy, you might get tempted by a deal for a car you don't like all that much or that doesn't have good reviews. Remember, you'll be driving the car for years. Stick to reliable cars you know you'll enjoy driving instead of purchasing a car at a reduced rate that you'll regret buying in the future.
Guide to Buying a Car FAQ
As you go to buy a car, you'll probably have a few questions. Go into the buying process fully informed by reviewing the answers to these commonly asked questions: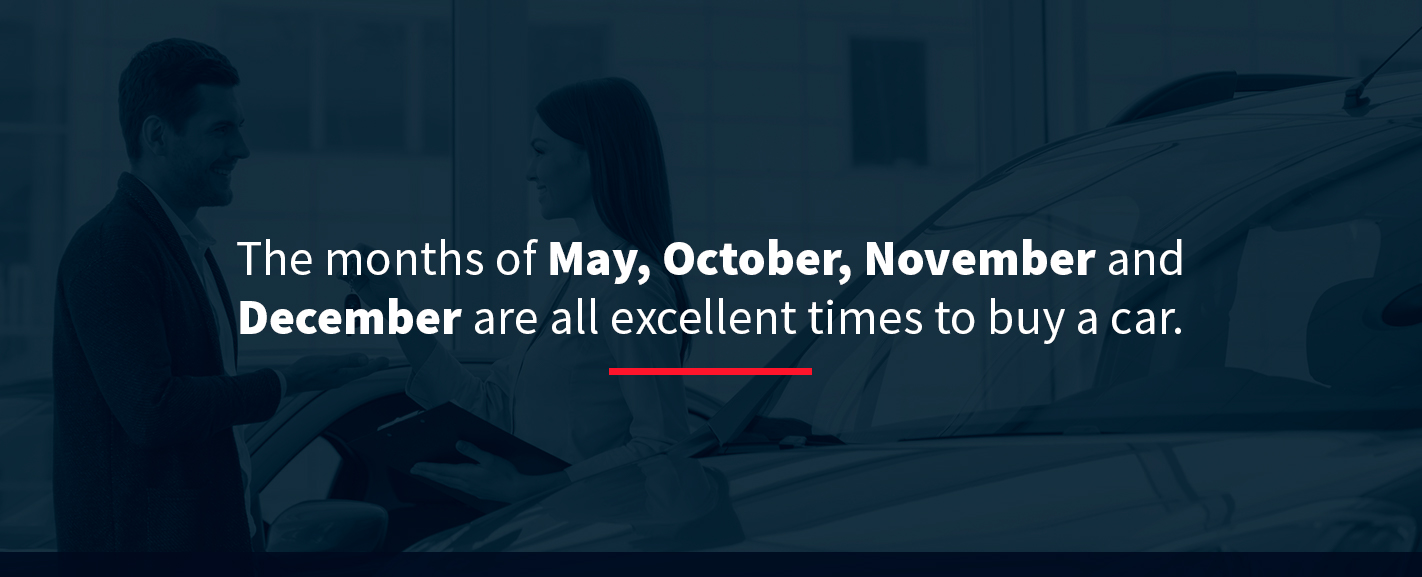 When Is the Best Time to Buy a Car?
The months of May, October, November and December are all excellent times to buy. In May, you can expect to see Memorial Day weekend promotions and sales. As such, waiting until the end of May can net you some excellent deals on your new car.
The months near the end of the year are some of the best months to buy a car because dealerships tend to have large promotions around the holidays. Since it's close to the end of the year, dealerships may also be behind on their sales targets, leading them to offer generous deals to buyers.
Is Leasing Different From a Standard Purchase?
Leasing is different from buying. You don't receive any equity or ownership stake of a leased vehicle, as you'll be essentially taking on a long-term rental contract. At the end of this contract, you usually have the option to purchase the vehicle at a discounted price. If you don't purchase the vehicle at the end of the contract, you have to return it to the dealership.
Is There a Three-Day Right to Cancel When Buying a Car?
There's a common misconception that you can get out of your car purchase if you return it within three days of buying it. However, there is no such law or rule. The only possibility is if the dealer puts it in the contract. However, it's likely they won't.
What Do You Need to Bring to Buy a Car?
When you're ready to buy your car, there are a few items and paperwork you must bring to complete the purchase. You'll always have to bring your driver's license, proof of insurance and a way to pay for the vehicle. Additionally, you'll likely need to bring recent pay stubs and a list of references if you're getting financing or a loan from the dealership itself. 
Additionally, you may need to bring a blank check from your bank if you want to be accepted for a pre-approved loan. You and a dealership representative will need to sign this check as well.
If you're eligible for rebates, you'll need to bring documents proving this, such as if you're a college student, military member or some other group the dealership is trying to reach out to. You may also want to bring any discount information to ensure you receive the discounts listed by the dealership or manufacturer. 
Why a AAA Membership Is a Great Choice for New Car Buyers
To protect your car after you bring it home from the lot, you need a AAA membership. By investing in an affordable AAA membership, you get the opportunity to access 24/7 Roadside Assistance, financial services, locked key retrieval, driver education, travel planning help and variety of discounts and savings. 
With all of the services and tools a AAA membership gives drivers, there are plenty of advantages to purchasing a membership. One of the primary benefits drivers receive with their membership is AAA emergency roadside assistance. This service can give you complete peace of mind every time you take your new car out on the road. 
The roadside assistance you get with the membership includes towing and flat tire replacement. Accidents and mechanical issues happen. A membership gives you the ability to get a tow truck to your vehicle as fast as possible when your car isn't safe to drive. If you get a flat tire and don't know how to replace it, a skilled technician will get out to you quickly to help you replace the tire with a spare or even tow it to your preferred destination.
With roadside assistance, you never have to worry about being stranded after running out of gas. A representative will be happy to drive out to you with enough gas to get you back on the road again. AAA's technicians can also replace a dead battery on the spot and assist drivers who have locked themselves out of their vehicles.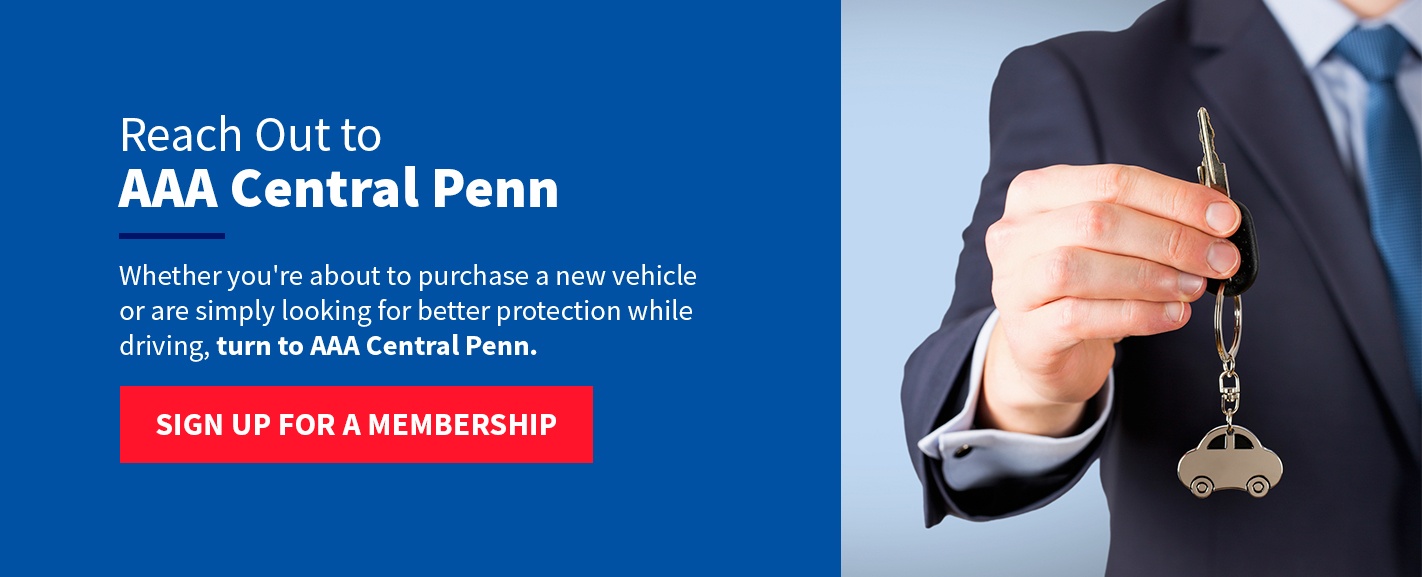 Reach Out to AAA Central Penn About a Membership
Whether you're about to purchase a new vehicle or are simply looking for better protection while driving, turn to AAA Central Penn. AAA is an indisputable leader in roadside service around the country, and we're proud to serve central Pennsylvania. 
Sign up for a AAA membership today to get all the advantages listed above. Have a question? Feel free to reach out to your local AAA branch location.