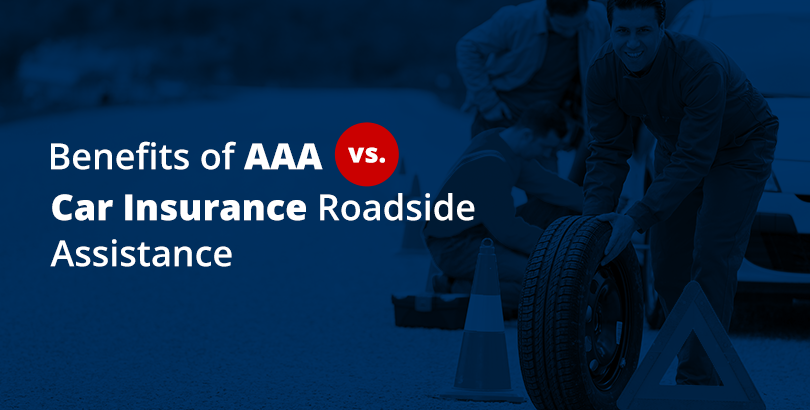 For more than 100 years, AAA has had America's back when it comes to motor vehicles. Today, AAA provides a host of services for your vehicle, vacation planning and resources, like maps and guidebooks. But roadside assistance is still what AAA is best known for and the main reason many people become dedicated AAA members. With services like vehicle towing, tire changes and vehicle lockout, AAA is one of the most trusted companies when it comes to offering roadside assistance.
So why do so many people choose AAA over other companies? The answer is simple: because no one provides roadside assistance better than AAA.
Read the full article or skip to a specific section: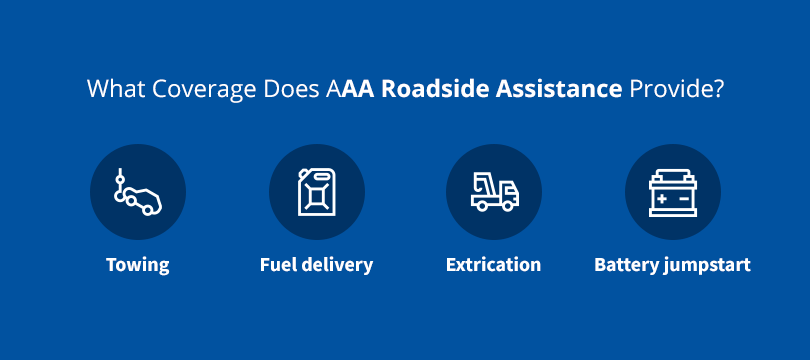 What Coverage Does AAA Roadside Assistance Provide?
AAA's goal is always to be there for you, whatever your situation. Whether you're locked out of your car in a grocery store parking lot or stuck on the shoulder with a flat tire, AAA offers a well-rounded selection of services to assist you, and they're all available free of charge for members. AAA even has your back when you're on vacation, offering the same roadside assistance anywhere in the country as well as discounts on rental cars.
Some of AAA's most popular roadside assistance services include:
Towing: If you find yourself in need of a tow, you shouldn't worry if you're a AAA Member. While all members get free towing services, the membership levels dictate the extent of the service. For Classic Members, AAA will tow your vehicle up to 7 miles for free, and you get four free tows covered under your membership. AAA Plus members get their vehicle towed for free up to 100 miles and AAA Premium members get one free tow up to 200 miles for every household and every other tow up to 100 miles.
Fuel delivery: Fuel delivery is another great perk AAA members can enjoy. While AAA Classic members have to pay for the fuel itself, all three tiers of membership get free delivery, with Plus and Premium members getting free fuel as well. The service provides enough fuel to get your vehicle to the nearest service station.
Extrication: Worrying about pulling your vehicle out of a muddy trap or a ditch can be a headache no one needs. That's why AAA offers members free extrication or winching services — one per year for Classic members and two per year for Plus and Premium members.
Battery jumpstart: All AAA members receive free battery jumpstart services regardless of their membership tier. If the battery won't start, higher tier members can receive a new battery to take them to the nearest service station or a towing service if all else fails.
All these services and more are offered to AAA Members as part of the annual price of membership. Unlike other roadside assistance providers who often charge extra for similar services, AAA is dedicated to providing each member with well-rounded vehicle care services.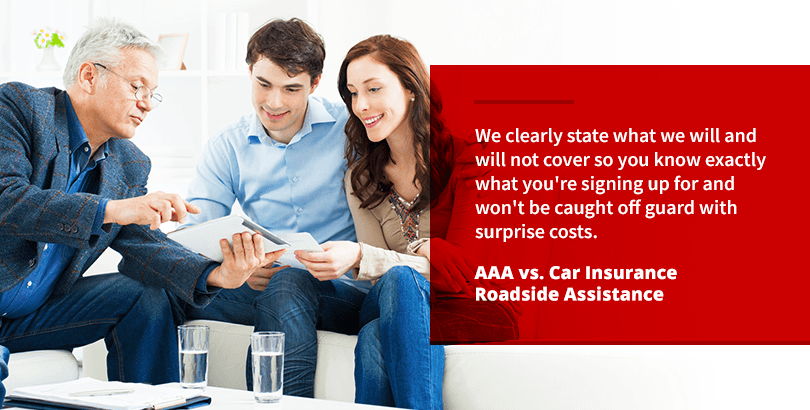 AAA vs. Car Insurance Roadside Assistance
In comparing AAA roadside assistance to that offered by other major brands, it's easy to see that AAA's benefits far outweigh others. For avid drivers as well as for those who drive occasionally, AAA provides the services you need without hidden fees. Based on your membership tier, you can enjoy the benefits of towing, small mechanical repairs and fuel delivery without having to pay separate fees for every service — it's all covered under your membership.
Plus, AAA is dedicated to being transparent, which is why we provide all members with exceptional detail regarding our services and obligations. We clearly state what we will and will not cover so you know exactly what you're signing up for and won't be caught off guard with surprise costs.
Unfortunately, not all roadside assistance companies work the same way.
Geico Roadside Assistance vs. AAA
Geico's roadside services are the closest to AAA's in terms of value. Geico offers its customers free towing up to 100 miles, battery jumpstart and extrication services similar to AAA's Plus membership. However, unlike AAA, roadside assistance is all that Geico offers for the price.
Even if you're not planning on using services other than roadside assistance, AAA is the better option since you automatically get a host of discounts and insider access to other services in addition to roadside services for the same price as Geico's roadside assistance-only service. In terms of overall benefits and services, AAA brings you more bang for your buck.
Allstate Roadside Assistance vs. AAA
Similarly, Allstate offers all the same roadside assistance services as AAA does, including towing, fuel delivery and flat tire services. However, Allstate charges on a per-occurrence basis, which can be upwards of $100, and not all services are included in the price. If you use Allstate for a battery jump and end up needing a tow, you'll pay two separate fees.
Therefore, if you're with Allstate and need to use its services twice in a year, you'll pay as much as or more than the cost of an annual AAA Premium membership. And the Allstate cost won't include any of the additional benefits and discounts, such as car rental and free access to AAA travel agents as AAA memberships do.
State Farm Roadside Assistance vs. AAA
State Farm offers clients a low annual fee but their roadside assistance doesn't include much without additional costs. Only the first hour of service is covered, and there are extra charges for any additional time beyond that. This means if you're with State Farm and call for roadside assistance for a tow, the first hour will be free, but you'll have to pay more if it takes longer than that to secure the vehicle and tow it to the nearest service station.
You'll also need to keep in mind that the closest service station may be many miles away, depending on where your car breaks down, or may not service all types of vehicles, which means towing the car farther, which will take longer and cost even more.
With AAA, you know exactly how far you can have your vehicle towed, no matter how long it takes to get there, which can save you a lot in the long run.
What Makes AAA Roadside Assistance Stand Out?
Aside from the regular services you'd expect from roadside assistance, AAA offers a host of additional benefits and discounts to all members, so you really can make the most of your membership.
Some of the popular benefits that make AAA stand out include:
Efficient service: AAA ensures you won't have to wait hours for service by positioning tow trucks in high-traffic areas so someone is ready to help you as soon as possible.
Mobile app: The AAA mobile app makes it even easier to access AAA services, including calling for help and checking estimated arrival times.
DMV services: Access to select DMV and MVD services are included in your AAA membership and offered at many AAA locations, which means you won't have to wait in line at your local motor vehicle authority. Instead, just walk into a AAA location and take advantage of services like renewing your vehicle's registration.
Discounts and rewards: Aside from the car rental discounts, AAA also offers its members unique discounts at certain service stations and auto repair shops.
Multi-car coverage: Regardless of whether you're the one driving, AAA Emergency Roadside Assistance is ready to help you when you need it.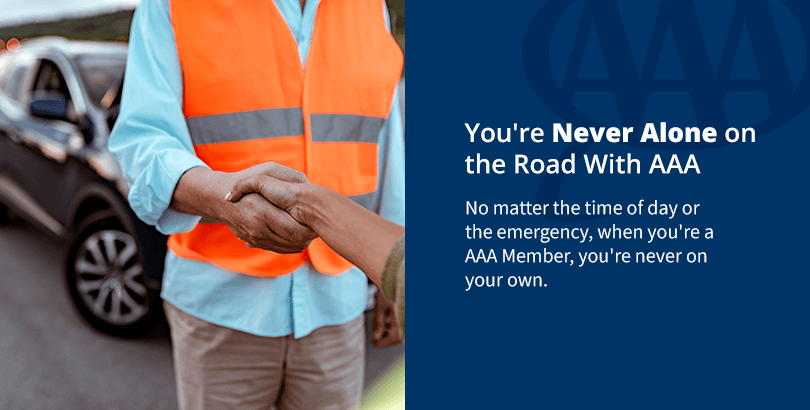 You're Never Alone on the Road With AAA
No matter the time of day or the emergency, when you're a AAA Member, you're never on your own. Our roadside assistance covers most motor vehicles, and some locations also offer bicycle coverage.
Learn more about AAA Emergency Roadside Assistance, and become a AAA Member to take advantage of the benefits today.